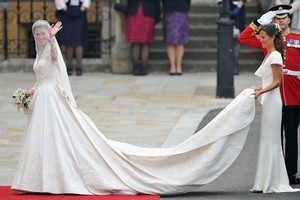 A British store has revealed its so-called 'Pippa Pants' are outselling normal underwear by 148 per cent.
The Pippa Pants - Invisible Shaping Bum Boosters, designed to do for buttocks what the Wonderbra did for breasts - experienced an upsurge of sales after the appearance of Pippa Middleton's derriere at the royal wedding sparked worldwide admiration - and envy.
Department store Debenhams has created the underwear which, it claims, adds two inches to the vital statistics of the wearer's rear end and a whole 15 degrees of curvature.
The padded underwear is now outselling non-padded underwear by 148 per cent.
A spokeswoman for the store attributed the sales boost to the younger Middleton's most famous asset.
"Widely publicised photographs of Pippa's shapely behind have made 'bum envy' a part of everyday conversation for women all over the UK," she said.
"Buying a pair of padded pants gives instant results compared to hours and hours of working hard in the gym - and costs a lot less too. It's a look we've seen on Hollywood celebs such as Kim Kardashian and Jennifer Lopez, but since Pippa has moved into the media spotlight, she has propelled the desire for more junk in the trunk to new heights."
"She has set the standard for how a perfect rear should appear."
- HERALD ONLINE