Farida Master talks to one family who have been involved in the annual Auckland Christmas parade for many years.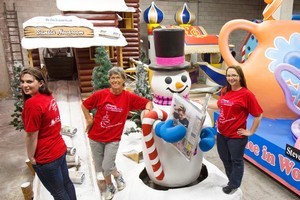 Karen Gibson (centre) with her daughters, Clare (left) and Merran on a Santa Parade float. Photo / Paul Estcourt
It's a giant jigsaw puzzle. Maneuvering the 30ft floats from the warehouse without breaking anything is an art form in itself, laughs Ian Gibson who has been fleet managing one of the biggest parades in the country, the Farmers Santa Parade, for the last 17 years.
Stage managing the gigantic floats out of the warehouse, putting them in sequence, fixing the add-ons, taking them to the assembly area, putting Santa on a fork-lift, looking out for over-hanging road signs and fauna - it's all in a day's job for Ian. So is co-ordinating with the Ford and Toyota volunteer drivers' club, repairing vehicles, fixing floats at the nth hour, making sure everyone is in position at the appointed time. It's a well calculated drill Ian has mastered over the years for a parade that draws a quarter of a million spectators.
In his day job, the consulting civil and structural engineer, see-saws between harsh reality and pure fantasy as he shuttles between Christchurch and Auckland, helping rebuild the southern city and jetting back north for the Santa Parade preparation. Talking about why he'll always continue to be a big part of the Farmers Santa Parade, he says, "It's a relationship of trust that we share with Pam Glaser, of Crackerjack Promotions, the chief event organiser of the Santa Parade and other old-timers who have been involved over the years.
It's been a long-standing tradition with our family and friends," he says.
A tradition that his children Clare 27, Merran 25 and Hamish 19, have gladly inherited. "We were very excited to get started after listening to Dad's fun stories every year and see the floats before anyone else," says Merran.
"Now my partner has also joined us."
"But we were not allowed to work with Dad till we were 16," adds Clare, an event management professional. "That's because the floats are really heavy and you need to be thinking when you are working," explains the head of the family. "It's strange when people say that the youth today don't want to work because over the years our children have always roped in their friends who are more than happy to help," he says.
Ian distinctly recalls the time his mate from the Roundtable Service requested him to help with the Santa Parade. That was 17 years ago. Years later, he was unanimously appointed fleet manager-cum-problem-solver. He accepted it saying, "I'm an engineer and enjoy fixing things."
There's been plenty of that to keep him busy. Like the time the Brachiosaurus' arm was accidently knocked off by the Dinosaur. "It was hilarious how Dad was trying to fix it when the parade was on," regales Hamish, a part of Ian's go-getting team for the last four years. "But the funniest was when Santa, the real star of the show, had a vehicle breakdown and they had to squash him onto a Charabanc with three gruff billy goats who were not too pleased with the arrangement!" laughs Karen, Ian's wife.
Karen was the last to join the trouble-shooting team three years ago, albeit in a different department. "I look after characters like Spot the dog or Care Bear who can barely see from their tiny peepers and have to be assisted," she says. "There have been times when I've had to make the stilt walkers sit on a roof of a car since they needed to rest at a height!"
For Hamish the most memorable moment was when he replaced the penguin who couldn't take the heat. "The volunteer in Mumble Penguin's costume fainted because it was so hot," he says. "We quickly got Hamish into the costume without destroying the children's illusion of a real life character," adds Karen. Though what Hamish hadn't bargained for was that he desperately needed to use the wash room since he'd been drinking lots of water - his mother insisted on him being well hydrated.
The story ended with Hamish getting completely into character, doing the Happy Feet shuffle, without really meaning to.
"It's fun when you see kids who actually believe that the characters are real," enthuses Karen.
"The expression on the children's faces is worth it all."
Ian admits he's never seen an entire parade and that his day ends only when the floats are maneuvered back into the warehouse.
"That takes another two to three hours," he reveals. The 12-hour day normally ends with a glass of beer at a pub watching the parade on the evening news with the old crew laughing about whose arm has been cut off in the picture.
Ask Ian about the high point of the parade and he smiles,"It's when you come to the end and knows nothing's gone wrong. Well, almost nothing!"
Join the fun
If you are willing and able, Crackerjack Promotions are happy to take you on as a volunteer. To volunteer for next year's Farmers Santa Parade, log on to santaparade.co.nz and fill in the form.
You need to be 7 years of age to wear a costume, and 18 years to qualify as a behind-the-scenes volunteer. Crackerjack Promotions will match your skill to the job.