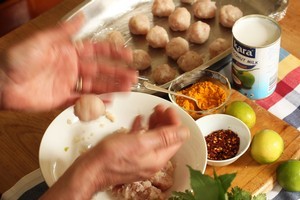 1 onion, half cut into chunks and the other half into fine slices
3 cloves of garlic, peeled and chopped
1-2 green chillies, deseeded and chopped
½ teaspoon of salt
700g of fish fillets roughly chopped (use a meaty fish such as monk fish)
2 egg whites
1 Place the chunky onion, garlic, chilli and salt in a food processor and blend.
2 Add the fish and egg whites and pulse till mixed, be careful not to pulp it. Shape the mixture into golf ball sized balls using wet hands. Chill the balls for about 30 minutes.
3 In a large pot heat 2 tbsp of vegetable oil and cook the finely sliced onion until translucent.
4 Add 1 teaspoon of the Sri Lankan curry powder you made earlier.
5 Add ¼ tsp chilli flakes, 1 tsp turmeric, and a sprig of fresh curry leaves and stir.
6 Add a 400ml can of coconut milk and bring to a simmer.
7 Add the fish balls and top up with water so the balls are just covered. Reduce the heat to the lowest setting possible, cover and cook until the balls are tender. This will only take about 10 minutes. Stir through the juice of a lime and a good handful of chopped coriander. Check the seasoning and serve.
Make a table with the fish ball curry, some plain rice and roti and the coconut sambal as a side.