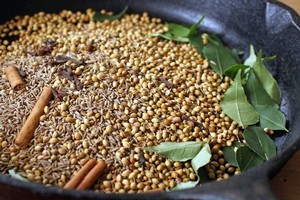 You need a spice mix - like a garam masala in Indian food - as a building block to your Sri Lankan cooking. This is a simple one, every household will have its personal mix.
50g coriander seed
30g cumin seed
1tbsp fennel seed
1tbsp fenugreek seed
1 cinnamon stick broken into pieces
1 tsp cloves
1 tsp cardamom seeds
2 tbsp dried curry leaves
1 Dry roast the coriander, cumin, fenugreek and fennel seeds in a frying pan over a low heat, stirring constantly. Do not allow to burn.
2 Cool and place the spices in a grinder with the cinnamon stick, cloves, cardamom and curry leaves. Blend to a fine powder. Store in an airtight container.
This can be used in various recipes or sprinkled over prawns as you cook them in a pan or on a barbecue. You could toss some chicken drumsticks in oil and the curry powder, squeeze lemon juice over them and cook in a medium oven until tender. Lightly dust fish fillets with the mix, squeeze a lime over them and grill. Serve with plain rice, wilted Asian greens and toasted thread coconut.