Sri Lanka has borrowed from the flavours of foods introduced by centuries of invaders, raiders and traders.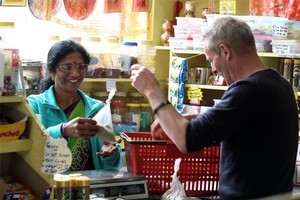 When someone mentions Sri Lanka you might think of Dilmah Tea, but this country's culinary history is much richer. Ceylon, as it was previously known, has a long history involving invaders, raiders and traders, and all have left their mark on the food of Sri Lanka.
It is thought the first settlers were from northern India, who developed an impressive irrigation system. Combined with Sri Lanka's temperate climate and fertile soil, a Garden of Eden environment evolved for produce; and the coast was abundant with seafood.
The Portuguese probably had the biggest impact on Sri Lanka. In the mid 16th century they arrived to trade spices, bringing plants that they had discovered in the New Americas: potatoes, tomatoes, corn, guava and others but most significantly, chilli. Prior to the Portuguese arrival, chilli was unknown in Asia. Heat in dishes was achieved through various peppercorns.
Later the Dutch arrived, bringing Malaysian labour, and added Dutch and Malay influence to Sri Lanka's food.
And then the British colonised Sri Lanka with their Indian Tamil labour. After adding Anglo and Indian culinary touches, religious food restrictions and Ayurvedic principles around the use of spices, it becomes clear that Sri Lankan food is complex, subtle, balanced and totally delicious.
My Sri Lankan friend, Rehan, and Mary Taylor of Food Matters, have given me lots of advice. We have been teaching an Introduction to Sri Lankan Food class at Cook the Books and it is the class that we have to keep repeating - it seems there's a great interest in learning about this unique cuisine. Here is a basic introduction.
Shopping for spices
Don't be put off if you don't know what the listed spices are, and don't buy little cardboard packets from your supermarket. Find a good Indian warehouse such as Mahadeo's and go shopping. Ask for help, buy only what you need, and you will be amazed at how reasonable the prices are. Plus, you're buying fresh spices and not those that have sat on a shelf for months.
Contacts
* Mahadeo's Spices & Produce 14 Virginia Avenue, Eden Terrace, Auckland City
* Food Matters for food-themed tours of Sri Lanka
* COOK@Cook the Books Sri Lankan and other cooking classes
* Grant Allen has been a professional cook for 30 years. He works as a caterer in Auckland. Check out Grant's Facebook page here.