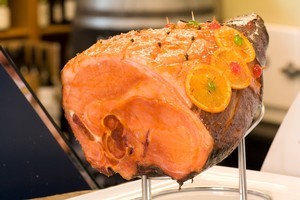 Slice off a nice big hunk of manuka woodchip smoked leg ham, lay it on a slice of fresh bread and add a dollop of home-made mayonnaise.
That's the best way to eat the popular sandwich meat, according to Kurt Robinson, the butcher behind the ham crowned the nation's best this week.
The traditional-style ham was crafted by Robinson and Noel Marquet, from boutique butchery, Cashmere Cuisine, in Christchurch. Their combined 50 years experience has led to the production of the ham named most tasty and tender in the inaugural 100% New Zealand Ham Competition, beating out 86 contenders for the title of best overall.
"We had no idea of what to expect or who we were coming up against, so we are really chuffed with the results," Robinson says.
The winning piece of meat was kept in brine for a week before being hung up to let excess moisture out. It was naturally double smoked with manuka woodchips from the West Coast, then slowly cooked on a low-temperature for about 10 hours.
The judges described it as "an astounding example of how to prepare this traditional cut of meat, while delivering a superb balance of sweetness, salt and smoke taste."
Winners by category:
Courier Sharpening Ltd 100% New Zealand Ham of the Year winner:
Kurt Robinson of Cashmere Cuisine, Cashmere, Christchurch

Sliced Ham:
Gold - Angus Black of Harrington's Small Goods Ltd, Miramar, Wellington
Silver - John Borcovsky of Murchison Meats, Murchison, Nelson
Bronze - Corey Winder of Ashby's Butchery, Wigram, Christchurch

Leg of Ham:
Gold - Kurt Robinson of Cashmere Cuisine, Cashmere, Christchurch
Silver - Brian Jennings of Redcliffs Butchery, Redcliffs, Christchurch
Bronze - John Cormack of Butcher Jacks Ltd, Glenfield, Auckland

- NZ HERALD ONLINE