The stars of Tartuffe talk about transformation and how makeup helps make the moment.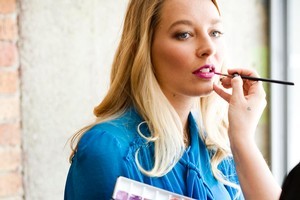 Theresa Healey is a Diva, Sophie Henderson a Girl About Town and Mia Blake Kinda Sexy - at least that's what the actors' chosen lipsticks say about their characters in a modern-day remake of Moliere's satire Tartuffe.
The Silo Theatre production is set in an A-list Auckland recognisable to readers of the Sunday social pages. "The names of the lipsticks match the personalities of their roles. So on a whole lot of levels the lipstick relates to the characters," acclaimed costume designer Elizabeth Whiting told Viva.
All three women, stalwarts of the New Zealand theatre scene, agree cosmetics are a great prop in representing a character on stage.
For Tartuffe, Whiting says she sets out to interpret social page looks, but in a heightened fashion. "It is sending up people that are a bit try-hard, or 'wanna-be famous' in a highly visual way."
Silo Theatre has been collaborating with M.A.C for some time, using its cosmetic products on stage and its makeup artists backstage.
The lipstick match is an extension of this.
Whiting says occasionally an actor will have a particular product or item they are more comfortable using, but for the most part the company is using straight M.A.C products. "I am really enjoying how makeup artistry and products have taken a massive leap forward and theatre in New Zealand is reaping the rewards."
Getting makeup right in a production is "a major tool to get the right look and tone for the character". Specialist artists add an expertise to ensure the looks are appropriately on trend. "If you want to convey a super glamorous woman she can't have makeup that looks amateur or cheap."
In smaller theatres it is particularly important that makeup be spot on. "This is the case in the Herald Theatre and with seating arrangement at Q for Tartuffe - people are so close to the actors, the makeup needs to be flawless."
Whiting says compared with staging a costume drama, using a modern-day setting is more challenging.
"Every garment - however simple it looks - sends certain messages to the audience about the person on stage.
"The costuming and makeup are how we visually make judgments on a character: we gain knowledge about their personality, social standing, the era in which they live. You have to be careful not to send the wrong message about a character to the audience.
An example of this is how the urban/hip-hop style of wearing caps suddenly changed. It went from flicking the peak of the baseball cap right back to them being worn with the peak totally straight.
"If you are trying to convey someone who is urban/street and you present them in an old or slightly dated style, this may cause the audience to have a completely different reaction or perception of the character than the one you are trying to convey."
We caught up with Healey and Henderson to find out how they feel about being labelled by lippy and what their off-stage relationship with makeup is.
The Diva
Theresa Healey plays Elmire, a botoxed second wife.
How does the lipstick look chosen for your Tartuffe character express her personality?
It's M.A.C's Diva; it's out-there, sassy, the kind of colour a woman wears when she knows what she wants.
Is this a colour you would wear off stage?
Probably not, no ... I'm not that loud! I'm more of a dusky pink kinda girl.
Favourite lipstick shade?
I have a M.A.C lipstick in Fast Play and M.A.C's satin lipstick in Twig. Every time I go in store I think "Oooh, that's a nice colour ..." Then I find out it's Twig! ... I think I've had about 30 Twigs.
Does wearing stage makeup at work make you more or less keen on wearing cosmetics outside the theatre?
Day to day I have a basic beauty routine: I wear foundation, a bit of mascara and of course, the Twig. Stage makeup is definitely heavier than TV makeup or everyday makeup. In theatre I've always been told "more more more".
Makeup for stage is really drying so you have to make sure you take really good care of your skin and take it off properly every night.
But hey, it's a lot better than when I first started out in the industry. All we had was the No 9 & No 5 - which were the shading and the base - two sticks of greasepaint. So, we're very lucky now.
What's your favourite dressing room product?
Probably my little M.A.C Plushglass in Pretty Plush. It actually visibly pumps your lips - it's great.
What has been your all-time personal favourite stage or screen makeup look?
After 30 years in the industry I still can't do my own makeup properly. So whatever the makeup artist does is my favourite.
Do you have a beauty idol?
Women who look natural, and truly comfortable in their own skin. Julianne Moore is a good example of this - those freckles, the great skin, she just looks so fresh.
What's your beauty must have?
My 100 per cent zinc sunblock!
Girl About Town
Sophie Henderson plays Mariane, a precocious teen.
How does your chosen lipstick match your character's personality?
The lipstick is Barbie doll pink. My character is a daddy's girl flirting with the idea of not being one. She's very girly and very rich.
What is your real-life favourite shade?
I love M.A.C's Kinda Sexy lipstick [worn by Mia Blake's character Dorine in the play]. I love makeup that looks like you're not wearing any. It tricks people into thinking that's how you naturally look. Suckers!
Does wearing a lot of stage makeup pose any issues for your skin and how do you deal with these?
I guess it does. I use Dermalogica pre-cleanse to take off my makeup. It's brilliant and helps my skin deal with wearing so much every night. I don't wear a lot of makeup outside work, but usually whack on some mascara and concealer. I'm pretty rubbish at doing my own makeup, but I get lessons from the girls at M.A.C every time I do a show so I'm getting better and better.
What's your favourite dressing room product?
For Tartuffe I get in a pool almost every time I come on stage, so there is lots of hair drying in between. I'm using a ghd product called Thermal Protector to stop my hair getting damaged.
What was your best ever makeup look?
I played a jersey cow called Betsy Kettle in a play called Milk. I got to wear beautiful cow eyelashes, which were ridiculously long.
Beauty idol?
David Bowie. He's the master of stage makeup.
What's your beauty must have?
Stella McCartney's perfume Stella. I always ask people wearing it what perfume they have on, not realising it's the same one I have. It's my best.
* Tartuffe plays at Q Theatre, 305 Queen St, Auckland, until November 26. Tickets: $30-$65 (service fees apply), Book online or (09) 357 9771.