As well as loving what she does for a living, music publicist and tour promoter Maria Robinson dresses the part.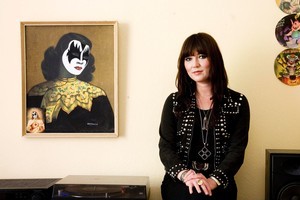 From a pre-AC/DC concert party to a backstage after-party with Queens of the Stone Age, Maria Robinson has seen a few good nights out in her time. As publicity and promotions manager for Mushroom Group Promotions/Frontier Touring, she helps bring big bands to New Zealand, including, currently, the Foo Fighters, Hall & Oates and Ryan Adams. As well as music, Robinson has a love of fashion - vintage suede and leather vests, designer 1970s jewellery, and vintage pieces from New Zealand designer Annie Bonza.
I love a good party. One of my top three all-time parties would be a pre-AC/DC party at Ivanhoe Rd in Western Springs. We made a banner for the roof of our house out of black plastic and tinfoil and took group photos in front of it. It felt like everyone I knew was there and the concert that night was the most fun ever. Also up there is a Queens of the Stone Age backstage after-party in February. It ruled. And a New Year's Eve party last year at the Ambassador Theatre in Pt Chev. Peter knows how to throw the best parties, and that place is by far the best bar in Auckland.
A good party guest is someone who comes back and helps you clean up the next day when it's the last thing anyone feels like doing.
My love of fashion began when I was a young girl. My mother has always traded in antiques and collectables. She'd have me trawling opshops and markets at 5am on Sunday mornings.
My all-time favourite designer is Annie Bonza. She had an Auckland boutique during the 1960s and 1970s and I wish I could turn back time so I could shop there.
If I could have anyone's wardrobe it would be Jimi Hendrix, Tom Petty and Lemmy Kilmister from Motorhead. You'd be hard pressed to find three better-dressed men. All of them have classic and cool style.
The most treasured item in my wardrobe is a black leather fringed motorcycle jacket adorned with original enamel badges - Norton, Triumph and Laverda. I bought it on Trade Me years ago from a lovely woman who got it in Edinburgh at a market in 1979. She wrote me an amazing letter detailing everywhere she worn it and how at night that she'd often used it as a pillow. My jacket has been to a Thin Lizzy jam! That's why it's my favourite, it has true history and has been and seen places that I could only dream of. I even found an old £5 note in the lining!
I love makeup and it's rare to see me without it. I definitely like to look my best whenever I can. That's always been important to me. I see makeup as an extension of fashion and my style.
I collect Annie Bonza! I have a few of her beautiful designs. They're hard to find. The first item I bought was a long, panelled paisley crepe skirt. Then I found a black velvet jacket that has coloured squares down the arms and on the pockets. My favourite is a silk turquoise jacket with beautiful embroidered piping detail. I have an addiction to vintage suede and leather vests. I can't buy enough of them. I have a tendency to buy similar things over and over.
I have worn so many different clothes over the years. In my early teens I wore 1970s flares and tight T-shirts. After that I had more of a goth/punk look going on - lots of lace and fishnets. I guess I was around 18 when my "look" became more permanent. I have a couple of styles you'll see me wear on a regular basis, like 1960s and 70s dresses or rock and roll-era. Jeans, leather jacket and cuban heeled boots.