The allure of precious metal is your best bet for shining this party season.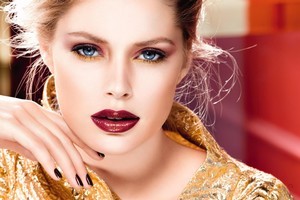 A slick of gold is one of the simplest ways to signal special and can be as easy as a little dust of highlighter powder or a golden gloss atop a red lip. Gold eye shadow is almost universally flattering, so give it a go.
If you don't think gold is for you, broaden your shade definition from warm rosy bronzes through the palest white golds and you'll soon be a convert, with a shade to suit all skin tones. Just remember, as with jewellery, less is more with metallics, so think glimmer, not glitter and you'll avoid garish overloading.
This season it is noticeable that a number of makeup brands are mixing golden glints through their colour ranges, which is a way to go for gold without being bedecked in it. Christian Dior's reds shot with gold are a great example of this approach and L'Oreal Paris has placed gold at the heart of its limited edition L'Or collection for nails, lips and eyes.
Lancome's latest look is all about doe eyes, red lips and contoured cheeks.
This is a timeless and sophisticated approach to party season, more 40s than 60s, though still strong on the eyeliner and swept up lashes that work well for all ages. As a nod to tradition and a sign of approval at the direction taken by the company's makeup maestro New Zealander Aaron De Mey, the collection is called 29 Saint-Honore, the address of Lancome HQ in Paris. You won't go far wrong if you take the Lancome look as inspiration and throw in a touch of gold to top it off.
1. Chanel Long Wear Luminous Eyeshadow in Illusoire $57
This is one of those intriguing hard to define colours that makes for a sophisticated smoky eye. It's a sort of mauve-pewter with a rosy bronze sparkle. The cream powder blends well and stays the distance.
2. Stila Smudge Pot Gel Eye Liner in Bronze $54
Regular readers will know I love a good gel eyeliner. Gel is more forgiving than liquid and once brushed along the lash line stays put longer than a kohl pencil. This chocolate liner is lifted by a bronze sheen giving it depth and warmth.
3. L'Oreal Paris Color Infallible Eyeshadow in Emerald Lame $21.99
There are five pearlescent shades to mine and this green one strays the furthest from gold, but is still infused with it.
4. Bobbi Brown Long Wear Cream Shadow in Bone $57
Bobbi Brown's cream bases don't slide into the eye crease and can be used as an easy shadow or a primer for layering on powders. This bone shade evens out skin tone and brightens the eye, making it a great start for your everyday or evening makeup. Try Antique Gold for added oomph or the metallics in her Party Collection Chocolate & Gold Eye Paint Palette ($140).
5. Rouge Dior Les Rouges Or in Belle de Nuit $59 and Dior Extreme Wear Nail Lacquer in Merveille $47
These reds are shot with molten metal. The Voluptuous Care lipstick has a moist mouth feel that showed me how far lipstick has come since I first fell in love with Dior's then much more drying reds decades ago. The gold-infused nail polish is a nice take on traditional red talons.
6. Clarins Passion Face Palette $84
Go for gold with this highlighter compact inspired by Art Deco motifs. It contains an ultra-fine gold-pearl shimmer powder to illuminate the face and decollete. The eye palette ($84) from the same Festive Makeup Collection, uses shimmery pink, grey and silver pearl.
7. Becca Dusty Rose Palette $139
A combination of cream blush, lip gloss, lip and cheek cream and highlighter in one handy compact. Only the highlighter has a hint of gold, but this quartet will give that natural sun-kissed glow that is perfect for summer.
8. Revlon ColorStay Pressed Powder in Translucent $38.95
Dust a little of this silkily matte powder across your foundation for the perfect finishing touch. It's so finely milled you'll barely know it's there.
9. Dior J'Adore eau de toilette 50ml $148
If you could bottle the sweet smell of the allure of gold, this would surely be it. An intoxicating floral fragrance in a golden coil-wrapped bottle.
10. M.A.C Opulash Optimum Black $34
Strong saturated black colour with a big brush to deliver a thick lash coating that lasts.
11. Cover Girl Nature Luxe Gloss Balm in Anemone $15.99
This summer time party bargain buy comes with SPF15 sunscreen and gives a good slick of sheer red.
12. Stila Glitter Eye Liner in Kitten $42
A fine brush makes applying this glittering liquid liner easy. It contains champagne, rose gold, bronze, and pink particles and truly looks anything but tacky.
13. Napoleon Perdis Love Unleashed Lashes $23
A full fringe of lashes is essential for the doe-eyed look and these ones are luscious - though annoyingly you'll need to buy the glue separately.
14. Manicare Emery Board $1.95
The classic combination of black and gold makes this item smart and its plastic sleeve ensures it remains serviceable even when carried round in a handbag.
15. Jane Iredale Makeup Kit My Steppe in Warm $139
Mature mineral makeup fans will appreciate the quality of Jane Iredale's latest selection. I t has everything you need in a clever swivel stack.
Stockists: In selected department stores and pharmacies or Becca see Glamorpuss and Jane Iredale.