Two leading Italian brands celebrate in style.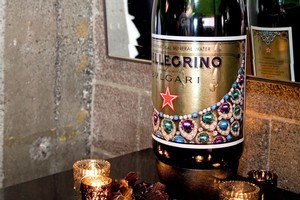 With its uber-chic interior - dark and moody on a Monday night - Clooney's restaurant in Freemans Bay was the perfect launch pad for San Pellegrino's new limited-edition bottle of sparking mineral water designed by the House of Bulgari.
The event: an intimate dinner for a hand-picked few from the hospitality industry.
Opulence was most definitely the name of the game, with Italian jeweller Bulgari - renowned for exclusive work with precious stones, jewels and watches - setting the tone with its one-off label design inspired by a vintage yellow gold necklace embellished with brilliant cut diamonds, set with graduated cabochon emeralds, amethysts and turquoises.
To celebrate the partnership of two such established Italian brands, guests were greeted with a specially created aperitif called, appropriately, Touched by an Italian. A delicious concoction of tomato water, Junipero gin, dry vermouth, basil and sugar syrup it packed a punch and set the mood for a night of fun and conviviality.
Clooney's Tony Stewart and head chef Des Harris had, fascinatingly, created a degustation dinner based around S.Pellegrino's stable of water and matched it with Italian wines. Scampi with rosemary, lemon pith and cauliflower, was served with a glass of Gaudo al Tasso Vermintino.
"This is one of my favourite wines," toasted restaurant doyenne Judith Tabron as she regaled her end of the table with stories about how she managed the crowds at Soul Bar and Bistro during the Rugby World Cup - "We completely sold out of Cristal,"- and the "unbelievable" stories she could tell if she ever wrote her memoirs. (Tonight Tabron celebrates Soul's 10th birthday with a party called Decadence - which is bound to be exactly that.)
For another guest, award-winning chef Michael Meredith, the evening was an opportunity to relax and share stories from his recent trip to Scandanavia to research the food scene and dine at the current best restaurant world in the world, Noma.
Indeed, the conversation flowed as effortlessly as the food and wine, as the guests worked their way through melt-in-your-mouth gnocchi with globe artichoke and black truffle, followed by lamb served with swede, black garlic and farro. Throughout we were educated in the different flavours of the Acqua Panna and S.Pellegrino waters and how their subtle flavours affected how we tasted the different flavours of our food.
The elegance of the night was heightened by the outstanding operatic performance by Julia Booth who sang Donde Lieta from La Boheme, O mio babbino caro from Gianni Schicchi and the beautiful Song to the Moon from Rusalka. Oversized gilt frames hung on the walls housing images of Bulgari jewels and of Elizabeth Taylor who owned numerous pieces.
The prestigious brand celebrates its 125th anniversary this year and for those New Zealanders wanting a slice of its timeless glamour, the closest store is in Sydney which, depending on the size of your order, will hand-deliver it to you here in New Zealand. (And I have it on good authority, that they do make several trips a year for lucky Kiwi customers).
The evening rolled to an end, this was a Monday after all, with shared acknowledgement that nothing beats the experience of refined dining, and the sparkle of good wine, water - and company.
* S.Pellegrino Bulgari is available for a limited time in fine dining restaurants in New Zealand and around the world.