Consummate hostess Geeling Ching shares what keeps her inspired in life.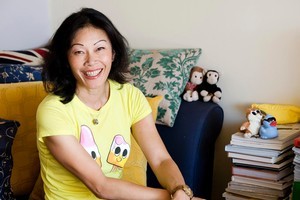 Soul Bar and Bistro has been the place of many a good night out, and the team is set to celebrate a little more tonight with their invitation-only 10th birthday party. The theme? Decadence. Geeling Ching has worked nine of those 10 years as the operations manager at the waterfront Auckland hospitality icon, and built a reputation as one of Auckland's most elegant and warm hosts. From her old RAV4 to an obsession with Bluff oysters, Ching talks us through a few of her favourite things ...
10 FAVOURITE THINGS
1. My trusty old RAV4
It ain't pretty, but it's been with me for a long time, seen me through lots of adventures and never lets me down. Except for that one time when I filled it with diesel by mistake...
2. Scented candles
No-one looks bad in candlelight. And my apartment smells good enough to eat.
You can never have enough of them.
3. The Breast Cancer Research Trust
Dedicated to finding a cure for breast cancer by 2018. I am an ambassador for the Trust, and of all the worthy causes to be a part of, this one is dear to my heart. My mother is a breast cancer survivor, so is one of my aunts, and I have many friends whose lives have been affected by the disease. Sadly, a friend of mine succumbed to secondary cancer earlier this year. She was barely 40.
4. Shoes
Platforms, spike heels, boots, ballet flats, espadrilles, wedges, sandals, jandals, sneakers, loafers, peeptoes, mary-janes, kitten heels, killer pumps - my friends call me Imelda. You get the idea.
5. Phalaenopsis orchids
To say I grow phalaenopsis orchids is to take credit for something that happens purely organically, with little or no input from me, but every year my beautiful plants flower profusely and fill me with wonder. They say orchids thrive on neglect, and mine are living proof of that.
6. Bluff oysters
One of the few delicacies left that are truly seasonal. I've eaten local oysters in New York, Paris and Sydney but you can't match our Bluffie for sheer salty heaven. Best place to eat them? Either in Bluff at the annual festival, or at Soul's annual all-you-can-eat lunch at the start of the season. Both events feature freshly shucked beauties, best eaten just as they come. March 1 - bring it on!
7. Family portrait
This is a portrait of my big sister Linda, and me, aged 9 and 3 respectively, painted by a friend of our mother. We're wearing matching silk dresses that Mum made. As well as being a full-time working mother, Mum found the time to cook amazing Cordon Bleu meals, and create beautiful clothes for us to wear. She could also knit and crochet, and was a dab hand at applique. We were always the best dressed kids at any family event. I look sort of shy don't I?
8. Le Creuset cast iron casserole
Risotto, Thai chicken curry, lamb shanks, bouillabaisse, favourite pasta, southern fried chicken (mmm) - it's my one-stop, international, cookware genius.
9. Running
If you had told me 20 years ago that I would one day run a marathon, I would have said you were out of your mind. Famous last words. I did New York in 2008, Paris in 2010, and I'm thinking about Tokyo in 2013. For me, running is an act of pure and utter selfishness: just me, alone and free. I couldn't manage without it.
10. Google
The amazing internet. I have a very limited understanding of it, but wow! Ask it any question and you'll get an answer in seconds. It's like magic. And I love the image plays to commemorate special days. Fun and smart.