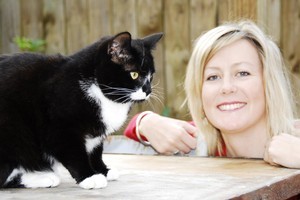 Spray away
Volunteer group Lonely Miaow is holding a charity tan-a-thon this Saturday. The novel fundraiser will see participants sprayed for a $20 donation, with the money going to help Lonely Miaow's work finding homes for the stray and abandoned cats it rescues in Auckland. Event sponsor New Zealand company Spray Tanz will dispense the tans at the Ponsonby Community Centre, 20 Ponsonby Tce, from 9am to 4pm.
"With summer approaching we felt a tan-a-thon was a suitable yet unique fundraising event," said Stacey Gillies, a volunteer for the non-profit organisation.
You can book online or turn up on the day and take your turn. To find out more about helping Lonely Miaow's work, check out the website.
Want it
We have a soft spot for gallery and museum gift shops, with their fantastic selection of books and arty mementos - so we're excited by an exclusive new range of Deadly Ponies leather wallets and accessories available now from the shop at the Auckland Art Gallery. Created especially for the revamped gallery by Deadly Ponies' designer Liam Bowden, the special mini range includes a cute coin purse ($65), wallets (from $182), key ring ($45) and luggage tag ($78) - each featuring the gallery's embossed lettering and brass hardware. Ph (09) 307 7530.
It's summer
Actress Rachel Bilson, who will forever hold a special place in our hearts as sassy Summer Roberts from TV show The O.C., has been announced as the new "Style Director" of Sunglass Hut. She heads the new campaign, appearing in Sunglass Hut stores now.
Bags it
Accessories label Saben is holding a one-day only sale in Newmarket this Friday, with samples, seconds and end-of-line handbags available at marked-down prices. Get in early, doors open at 7.30am and stay open until 6pm. Friday November 18, 110 Carlton Gore Rd, Newmarket.
Celine gets tagged
The front of Celine's flagship boutique in Paris was graffiti-ed with bright pink spray paint and the word "SK8" last week - reportedly a response by graffiti artist Kidult, who was not impressed with Celine's use of skateboards in a recent ad campaign. The artist has been on a "luxury vandalism" spree of late, spray-painting the front of Louis Vuitton's Saint-Germain-des-Pres boutique with the word "yes" and Hermes' store windows with the word "love" in September.
Rookies on show
A sell-out crowd watched end of year collections from 24 final year AUT fashion students at the Rookie show on Friday night, with designers from top local fashion labels in the audience - including Francis Hooper from World, Deanna Didovich from Ruby, the team behind Stolen Girlfriends Club and Huffer's design team Aimee McFarlane and Sam Hickey (himself an AUT fashion graduate). Viva's standouts from the show include slick, well-made menswear collections from Jack Roy and Eliav Meltzer, playful colour and shape from Emma Gleason, a thoughtful, austere collection from Glen Prentice, and the development of unique prints from Keva Rands and Grace Jensen.
Man to man
Two top up-and-coming menswear labels have collaborated to open a concept store in Auckland. The I Love Ugly and Commoner's Alike store launched at the weekend, will be open until late December. The new high-summer collection from I Love Ugly will arrive next week, or is available to pre-order online - and features simple boardshorts, a Spike Lee singlet and printed cotton shirts that verge into the fantastically ugly. Visit the store now at 11 Mt. Eden Rd, 10am-6pm Monday to Saturday, 12pm-4pm Sunday.
She's on sale
Fashion designer Sera Lilly is having a special four-day clearance sale, starting tomorrow - with end of lines, past Fashion Week samples, ready-to-wear bridal and bridal samples marked down. There is also 20 per cent off the summer range (including off the rack bridal and fabric). Until November 20. 2 Williamson Ave, Ponsonby, ph (09) 360 6994.