Steep drink prices at gigs leave a sour taste in Don Kavanagh's mouth.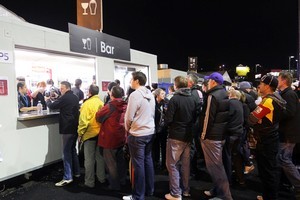 I've written quite a bit about being ripped off when you go out drinking and, at risk of flogging a dead horse, I'm going to have another go.
I was pleased to see that although there was some egregious price-gouging during the rugby, it wasn't as widespread as I had feared. I'd thought that with a near-captive audience some operators wouldn't be able to resist the urge to inflate prices. Thankfully, this was a fairly limited practice and, where it did occur, it was mostly down to the unique supply-and-demand factors caused by the big event.
So you can imagine my seething rage when I went out after the rugby had finished and found myself being stung like a trainee beekeeper for a few convivial drinks. The venue? Vector Arena.
I know there is always an added cost when you go to a show or a concert. After all, venues like the Vector tend to be open only occasionally, so they have to load that into their pricing. But to be faced with a $9 charge for a 330ml bottle of domestic beer made my jaw drop.
I had gone with some friends to the Steely Dan and Steve Winwood concert and had been pretty happy overall. Steve Winwood was excellent and, although the Dan did indulge in a bit too much mindless noodling, the main performance was fine.
But dear lord, the prices. I bought a water and three rather small wines and the total cost came to almost $40. At least Ned Kelly wore a mask.
With the concert lasting well over three hours, it was hard to avoid having a drink of some sort during the event, but the prices made me wince. And it's not just the Vector; most venues charge similarly steep prices and I'm getting sick of it.
I love music and used to go to a lot of gigs, but these days I'm more likely to buy an album and listen to it at home while having a drink, since I know how much that will cost me and I get a better choice of what I want to consume.
They used to say that home taping was killing music, but these days I fear it's the price of food and drink at the venue.