In need of an uplifting experience, Gill South joins a choir and, despite a few bum notes, finds herself singing its praises.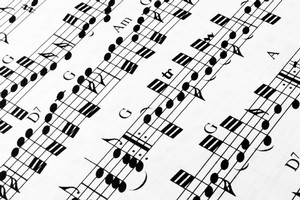 It's the Chattanooga choo choo. "All a-board!"
I am at my first session with the Central City Songbirds. I arrive at a Grey Lynn church at 8pm sharp after an afternoon of ferrying my kids to various activities. I'm absolutely shagged, as Richie McCaw would say.
But the members of this all-woman choir are so chatty and welcoming I feel my energy begin to return. As people arrive, there are little outbreaks of applause. They are seeing each other after a winter break. The age ranges from a teenage girl upwards, though most of us would be in our 40s and 50s.
Choir mistress Carolyn Medland brings us all to attention, a sparkling, authoritative women with a riot of curly hair, who tells a hilarious story to break the ice. I've been sitting with the sopranos like a dippy new girl, so I go over to join the altos, another friendly bunch. Carolyn is just a joy. She's got this golden voice and can sing all the parts beautifully except high soprano - she's a mezzo-soprano if that means anything to you.
Carolyn, who sings in the V8 octet and teaches at Avondale College, shows her school teacher side from time to time but she never loses her sense of humour.
After 20 odd years of not singing or reading music much - I sang in a choir when I was at the University of Auckland - I need to concentrate. Carolyn urges us to lose our New Zild vowels and rather than singing "Cittty sidewalks" in our poshest voices, we are urged to sing "Cidhy sidewalks". Our "e's" in Silver Bells come under some criticism. We are urged to pronounce the e like Italians. Raising the eyebrows helps, Carolyn tells us.
We are singing mainly in four parts, two lots of sopranos and two lots of altos. I am in the lowest, the "alto 2s" which is quite hard but sounds nice when put together with the rest. Everyone goes through their parts and after a few goes, we get a taste of how it's going to sound, though Philippa and I, my alto 2 buddy, wince when we keep getting a note wrong.
I find myself feeling slightly jealous of the other parts - the sopranos just follow the melody while the alto 1 and 2s slave away beneath the surface. I mention my envy to Carolyn and she says next time I can be an alto 1 because they need plumping up. I'm happy about that.
And we will be performing. The plan is that we will sing at Grey Lynn Library and somewhere Christmas Lights-ish-related in Auckland during December.
The race is on; though choir practice is usually fortnightly, it is going to be weekly this term because we have to get good, pronto.
The end of the session, 9.30pm, arrives and the time has just flown. What has this singing done for my health? I come home with lots of energy, writing up this column as I listen to Tom Waits' latest album. What a genius.
Going to choir is a lot better for me than sitting watching the telly, I can't help thinking. I'll be back.
Next week:
I have had one session with Fit Studio personal trainer and physiotherapist, Karina Balle, where she has tested my level of er "fitness". Now, she is going to get my six-week programme kick-started. I hope she'll be gentle with me.