Real sausages made with real meat - some recent winners of the Retail Meat sausage awards near you.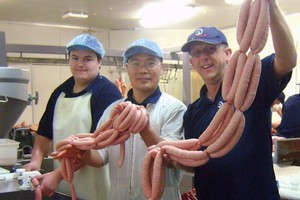 1. NZ Farm Co.
Milford Mall; 48a Anzac Rd, Browns Bay; 18 Clarence St, Devonport
NZ Farm Co. took away five gold medals and one silver in this year's competition. Their gold medal-winning sausage, the Bitter and Twisted, was made with Galbraith's Bitter and Twisted beer, pure NZ pork and secret herbs and spices. Match it with a pint of Galbraith's finest. Or try their other winners - chicken, gourmet beef, BBQ pork pre-cooked and cocktail frankfurter.
2. Franklin Country Meats
187 Manukau Rd, Pukekohe
This local butcher needs more wall-space for their medals. The smoked paprika and cheese precooked sausage won gold, the third in a row, bringing their total haul to six medals.
3. Ellerslie Meats
128D Main Highway, Ellerslie
Ellerslie Meats came up as a gold medallist in this year's competition with their beef sausage, made from a traditional mix of herbs and top quality meat which is gluten and dairy free.
These creative butchers have won 12 medals over the past three years for their products.
4. Te Rapa New World
751 Te Rapa Rd, Hamilton
Te Rapa New World are first time entrants and walked away with a gold medal first time for their 100 per cent pure pork shoulder.
Look for the TR Pride label in the in-store butchery.
5. Scott's The Traditional Butcher
64 Mill Rd, Helensville
Bruce Scott loves experimenting with new flavours for exciting sausages - with the help of Pete Brennan the owner/chef at award winning local restaurant Porcinis.
The spicy chorizo sausage won a bronze medal, adding to a considerable tally.