Actor Paolo Rotondo talks Vespas, grown-up watches and TV sets.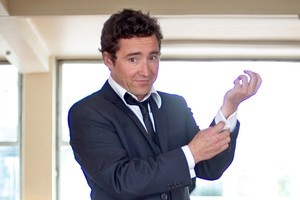 You may have seen photos of Paolo Rotondo around town, bare-chested and wearing a pair of blue Speedos, in character as the lead in Silo Theatre's production of Tartuffe - a modern-day retelling of Moliere's famous play which satirises Auckland society, "celebrity" culture and the monied elite. The prolific actor and director's own wardrobe and tastes are a little more slick - a Vespa and a Crane Brothers suit count as two of his favourite things, as he explains below.
10 FAVOURITE THINGS
1. Crane Brother's black suit
I wear it on great occasions like a wedding or a formal do, or an awards night. So now most times I pull it out I associate it with good times. Wish one could have all their clothes tailored.
2. Antique ship desk
It used to belong to my father and his father before that. I believe it's probably a couple of hundred years old.
The old leather top is completely marked and ripped and stained and it really bears the scars of a long, well-lived life. I covered the top with glass instead of replacing the leather to really celebrate its character. I used to see my father sitting at the desk engaged in some mysterious activity and wondered if that was what grown-up men did.
3. Vintage Omega 1946 Seamaster watch
It was a 40th birthday gift and it goes towards making me feel grown-up in some way. Now all I need is a suit, hat, umbrella, haircut and job.
4. Lowe Mimo TV set
A few years back I was feeling flash and thought I better acquire a great television set, seeing as I was working in TV at the time. I found this crazy, unusual and enormous beast and it was white. I'd never seen a TV like it (still haven't to this day). At the time it was state-of-the-art and as good a picture as you could get. It was only maybe a year and a half later that they brought out slimline flat-screen TVs. Now it looks like a dinosaur but it always gets comments ... especially about how big the box around it is.
5. 2003 Vespa PX 200
I've ridden Vespas since the late 1940s. I've taken Roman Holidays with Audrey Hepburn on the back, and I rode to Brighton with my khaki parka and mirrors. At least that's what it feels like. I ride my Vespa every day and it feels like Auckland is in slow-mo and I'm the only one in real time. My Vespa bears a few battle scars and is need of some TLC but she is the real deal, four gears on the handlebars and two-stroke blue smoke billowing from the back as I belt down between the lanes of frozen cars to get to the front of the queue.
6. iPhone
I still buzz out at that technology on a daily level. I now have an app that will learn all my lines for me in the show and make me act much better.
7. Two-cup Bialetti Moka coffee pot
It is so small people laugh at it. I always travel with it. Truth is, the best coffee I can find is in my kitchen on the gas at any given morning at my place.
8. Set of Global chef's knives
A sharp knife is much safer than a blunt one. My sister gave me this set years ago and they are so good I'll have them for years to come. She apparently bought them from a geezer in London who said they'd fallen off the back of a truck.
9. Simon James couch
When Kiwi designers get it right they create great stuff. It's a big black monolithic beast. Kids are dressed on it, guests sleep on it and any Rugby World Cup games of interest were watched on it, and still it keeps looking good.
10. Siapo
A Samoan tapa, brought back from Samoa by a friend's family. I have had it since I was a teenager but it was wrapped up out of sight - I then found out how special and sacred it is, so I have had it framed and it now takes pride of place in my home.
* Tartuffe, until November 26, Q Theatre, Auckland. Tickets $30 to $65, ph (09) 357 9771.