For added glamour, try a new season designer fragrance for size.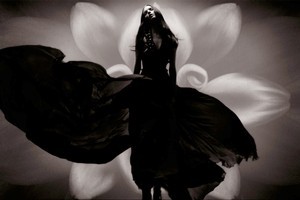 Since Gabrielle Chanel first smelled the roses, designers have grown to depend heavily on fragrance sales to keep their couture houses in the money. It fast adds up that there are many more customers for a perfume priced under $200 than for a designer dress or suit costing $2000 to $20,000, or for haute couture as high as $200,000.
Bottling the cachet of couture is not a failsafe earner, however, because every year far more fragrances fade away than remain favourites, but get it right and it's a goldmine. Sadly, though, too many of the launches are veritable fast fashion in a bottle, initially appealing but without much individuality or staying power.
Of the big 2011 launches one which is likely to prove a keeper is the first fragrance from red carpet designer Elie Saab (30ml, $108). It matches his design aesthetic, marrying elegance and glamour. Which got us thinking about how well some of the others do at bottling the essence of a label.
1. Givenchy Dahlia Noir 75ml eau de parfum, $189
Riccardo Tisci has reinvigorated the House of Givenchy with edgy dark designs, so in Dahlia Noir one would expect something disquietingly seductive. Instead it is an appealing powdery floral chypre, appropriate then to its weighty and handsome Deco-era bottle, but without the inventive pull of a true fashion original. That said, this fragrance is still better put together than much of what passes as "designer" these days, just a little lacking in the ethereally dangerous department as promised by the campaign images of Tisci's muse Mariacarla Boscono.
2. Fendi Fan di Fendi 50m eau de parfum, $129
The Fendi boutique opened in Rome in 1925, making its name selling the finest furs and handmade handbags; then in 1997 came the much coveted Baguette bag. Until then Fendi's most recognisable symbol was its double F logo, a discreet marker of luxury designed by Karl Lagerfeld. That interlinked F buckle design is used to frame the bottle of a fragrance which reflects Italy's love of gold. The scent is tangerine sunny too, but with floral and leathery notes, making it a classy concoction, but sparkling enough for the next generation of fans it is designed to attract to the label.
3. Burberry Body 85ml eau de parfum, $215
With Christopher Bailey at the helm, Burberry has come to typify the Brit wit look, reinventing a heritage brand with advertising campaigns fronted by cool kids. With a classic Burberry trench draped over her naked shoulders, actress Rosie Huntington-Whitely is the model for Body. For the price, the cylinder of juice in a cardboard tube is a little under-dressed too. The fresh rose and peach notes have a lingering warmth and are nice enough, but hardly as distinctive as the famous Burberry check. Forgo 10 bottles of this and you could almost afford the trench, making it your choice on a cost- per-wear equation.
4. Jimmy Choo 40ml eau de toilette, $85
Label director Tamara Mellon has long wanted to launch a Jimmy Choo signature scent. In coming up with this one in a pink python print box and jewel-like bottle, she is surely envisaging wearing it with a strappy little sexy evening slingback. The cocktail hour continues when the square stopper comes off to reveal a lightly fruity sensual scent that says "make mine a Bellini". So far so good for girls who once watched Sex and the City and now dream of the sort of fantasy feminine empowerment that sees Mellon model for her own campaign.
5. Love Chloe 50ml Eau Intense, $170
If you liked Love Chloe's powdery vintage rose style then try the Intense before you buy because this warmer more oriental version is noticeably different in composition, with added musk and vanilla base notes. The rich amber liquid is deeper too as is the chocolate-coloured box, but the gold-capped bottle design remains. This mix and match is reminiscent of how the house has played around with its designers since losing Phoebe Philo (now at Celine) in 2006. She recaptured the youthful feel injected at Chloe by Karl Lagerfeld more than 30 years before when he oversaw the development of the original tuberose Chloe scent. A good idea now much morphed.
6. Vanitas Versace 50ml eau de parfum, $135
From the moment you see the gold box, this says Versace, but I can't see Donatella wearing it. Perhaps an elegant aunt, but not one in mothballs for this is modern as well as mannered, with its mix of crisp lime and white flowers. Wear it to work and you may climb the career ladder; it is assured rather than unnecessarily assertive, like Versace tailored for troubled times.
7. Calvin Klein Forbidden Euphoria 50ml eau de parfum, $119
Calvin Klein fragrances have moved a long way from the spare, bare style the designer perfected last century. His clothes labels still retain a sporty elegance, but forget about it for the fragrances which now have an altogether more in-your-face approach than his old airy and fresh favourites. Euphoria of 2005 was an exotic fruity floral, this more overtly lays on the berries and the exotic oriental touches in an even more blatant play for the young and impressionable. It's about as "forbidden" as a purple phase in a teenager's wardrobe, but that said it's quite fun.
* The graffiti loud look of CK One's new Shock for Her and Him speaks volumes of how a unisex citrus scent from 1994 can turn into two generic fruit-soused florientals thanks to changing fragrance fashions. Sadly, like many companies behind such a dreary "progression", Klein can't find the decency to come up with a new name for something with very little relation to CK One except its bottle shape. The price is low enough ($65 for a 50ml eau de toilette) to ensure some of this stuff will shift from shelves.
8. Marc Jacobs Daisy Hot Pink Limited Edition 100ml eau de parfum, $175
Like his constantly reworked 60s shifts, Marc Jacob's Daisy appeals precisely because it is undemanding. Throw in a good colour combination and some outsize accessories - like the black bottle and its shocking pink-petalled lid - and it's smile time. This youthful perfume is stronger on strawberries than the eau de toilette original Daisy, but hey, they're in season now.
9. Moschino Forever 100ml eau de toilette, $136
For the man who likes label T-shirts, this emblazoned Moschino will help him sport a logo writ large in the bathroom too. English model and singer Josh Beech fronts the campaign for what is an appealing mix of fresh, warm and spicy aromas combined into a masculine scent with more originality than many.
10. Marc Jacobs Bang Bang 100ml eau de toilette, $170
Get more Bang for your buck with this double-barrelled version of Marc Jacobs polarising peppery men's fragrance Bang. The sapphire bottle of Bang Bang - meant like the original silver Bang to look like a fist has knocked it out of shape - is an unapologetic standout. That's the kind of description that also suits the designer whose name it bears. His newest scent is more approachably fresh with a spicy, woody finish.
11. Hugo Boss Orange 100ml eau de toilette, $141
Think Hugo Boss and it's sharp boardroom suiting or the sort of smart casual wear acceptable in a corporate office on dress down Fridays - but this is more akin to a relaxed, yet still stylish weekend. Orange is a Boss sub-brand and that fruit doesn't feature in the fragrance, but apple and spice do making it a confident choice.
Stockists: From selected department stores and (Jimmy Choo excepted) selected pharmacies.