A tribute to one of the creators of Vans shoes, James Van Doren.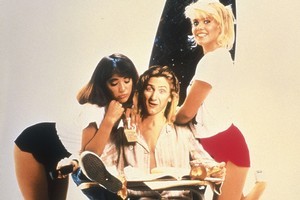 There are certain pieces that will forever symbolise the carefree days of youth. The leather jacket. The hoodie. Those annoying wheelie shoes, for especially young readers. But for a number of people, the piece of fashion that speaks of teenage angst and freedom will always be a pair of simple, rubber-soled canvas sneakers with distinctive checkerboard print.
I was about 15 when I bought my first beloved pair of Vans; the classic, black and white checkerboard slip-ons that were soon alternated with another pair in pink and black. This was during my awful Blink-182-loving, skater phase when I would wear them to the skate park and pretend I could skate. I couldn't, at all, but gosh it was fun to hang out and check out hot boys who also happened to be wearing Vans. For me, Vans will always conjure up youthful memories of recklessness, innocence and long summer holidays.
So it was with sadness and a great deal of nostalgia that I read over the weekend that James Van Doren, one of the founders of Vans and the creator of their trademark waffle sole design, had died last month at the age of 72.
It was his high-grip sole design - featuring the distinctive nine vertical lines and diamond pattern tread made of specially developed pure raw rubber with no fillers- that made the shoe so popular with skateboarders - both genuine and pretend like me.
Mine certainly wasn't the first generation to fall for the laid-back charms of the sneakers' sticky gum rubber sole and sturdiness: genuine West Coast skateboarders embraced Vans in the 1970s, and the shoes' popularity was forever written into pop culture history by the movie Fast Times at Ridgemont High's Jeff Spicoli, played to slacker perfection by a young Sean Penn in a pair of checkerboard Vans.
The most recent youth subculture to embrace the shoe would be red, black and white-loving emos, while just last week, actress Kristen Stewart showcased the particular breed of nonchalance that Vans represent with the outfit she wore when she had her footprints immortalised in concrete outside Grauman's Chinese Theatre: a grown-up mini dress by Marios Schwab, and a pair of checkerboard Vans.