Check out the future of local fashion at this year's Rookie 2011 show.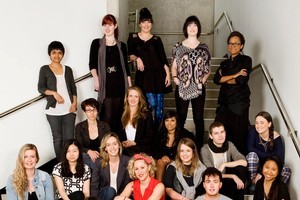 Fashion is about the new, and the local industry will be out in force at Rookie 2011 on Friday night to see what the next generation of design talent has to offer.
The end-of-year show from AUT's fashion school will feature collections from a selection of students, who began working on them earlier this year and have spent the last few months working late, late into the night on the finishing touches (sometimes as late as 4am). There is a little pressure: in recent years, AUT's fashion school has constantly produced some of best young talent New Zealand has, with graduates populating various designer workrooms or even creating their own brands. This year's group clearly has a real-world point of view: Andreas Mikellis, Acting Head of Department for Fashion & Textiles, believes they have created collections that are more "playful within a commercial environment". There are some interesting and varied ideas. Think of a delightfully mad collection that features exaggerated 1950s shapes and lush colour, or another that makes use of standout tropical-inspired prints featuring the designer's own photographic images. One student has taken the idea of the Korean hanbok (traditional dress), but created it in unexpected colours, while another has created pieces from moulding liquid latex over knitted structures. Colour is a big statement from many of the students this year; no doubt inspired by the likes of Raf Simons at Jil Sander, but also reflecting the lightening up of fashion in general.
"They're trying to make real clothes, that are new and exciting, without having to resort to tricks. It has some design integrity to it," Mikellis explains. "This year particularly, the students were focused on all the little details, the inside of a garment, the subtleties."
Take, for example, one collection that will be showcased on Friday night: a very slick, all-black menswear range that features knit pieces with "spines" and see-through cut-outs, teamed with tailored jackets. Mikellis concedes that these types of subtleties may not make for the most flamboyant of runway shows, but they do reflect the focus on craft that is popular across the board in fashion right now.
Menswear has also proven popular with the students this year, possibly influenced in part by the success of one AUT's most recent graduates, Sam Hickey, now the menswear designer at Huffer. "Menswear has become more 'cool' I suppose, more fashionable. We're not only getting more students interested in menswear, we're also getting loads more students applying to the course who are male," explains Mikellis.
Other fashion students will showcase their end-of-year collections as part of AUT's design school's exhibition RAW, which opens to the public tomorrow and runs until Saturday. The fashion aspect will be based around the idea of a showroom space, allowing visitors to interact with the clothes, says Mikellis.
"We've tried to make it so they're not just these static things on mannequins. It's much more about the way that people actually connect with clothes."
* AUT Rookie, November 11, Shed 10, Queen's Wharf, Auckland. Tickets $30 from Ticketmaster.