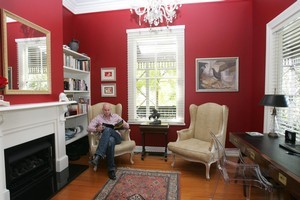 Colours create mood in a home - green is calming, red is stimulating and yellow increases brain activity - but when all the walls in a room are painted the same colour, it can change their effect.
How colours work in a room depends on their intensity and the way they're balanced. For example, red can have an aggressive effect when painted on all four walls.
Colours can affect a person's mood or a person's level of stimulation or productivity.
And experts say not every colour fits every room and some should be used only sparingly.
"In colour perception, there are no great individual differences," says Isabelle Wolf, a colour specialist.
No one considers red a cold colour - it's dynamic, powerful and stimulating. While green is harmonious, calming and balanced.
Rooms shouldn't be set up with a single theme, says Axel Venn, a designer and professor of colour design and trends at a school for applied science and art in Hildesheim, Germany.
"Two-thirds of the room should have a calming effect," says Venn. Milder colours achieve this best - like sun tones and shades of chalk, linen or sorbet.
"The stimulating effect of the remaining third of the room can be achieved through brighter colours or pastels," says Venn, adding that fabrics used in drapes and accessories such as books and photographs can also have more intense colours.
But when colours are too strong, it can churn up the room.
A deciding factor in the overall effect of a room is the colour "weight," says Uwe Linke, a psychologist specialising in the home environment.
"While light pastel tones have little weight, strong colours and dark colours are massive and should be used advisedly," Linke says.
He also recommends never using more than three colours, otherwise the room looks unsettled.
In addition to the colours selected, light is an important aspect of a room.
"Colours are brought out by light and through it they achieve their full effect," says Venn.
"A number of light sources are recommended to create cozy corners."
Most people wouldn't like a room that is completely flooded in light.
Some colours lend themselves best as accents.
"Red is seldom used for an entire room, rather it is suggested as a classic accent colour," says Venn.
"Rooms that are seldom used such as hallways and dining rooms that are just for show can be decorated in red," says Wolf.
"On the other hand, red is too provocative for the bedroom and not conducive to restful sleep."
Colour can make an impression in small measures as well. A red ottoman or stool, for example, can make red the dominant colour of a room.
Leather and fur accents can set the colour tone of a room and an open fireplace can also feature a dominant colour.
Colour also has an influence on the temperament of a person.
"A phlegmatic person decorates completely in green and never gets going," says Wolf.
Green is too staid, he says.
"Instead, colours with an activating impulse such as red or orange should be used."
Colour is often used in offices to create a particular atmosphere.
"Workplaces painted in yellow are more stimulating and shops in red tones are more inviting," says Linke.
Red isn't appropriate for a kindergarten because it's linked with aggression and loudness.
Venn says rooms should convey a message independent of colour.
"Then they are pleasant."
- AAP