An Auckland couple have used careful styling and decorating to make their home liveable while waiting to renovate.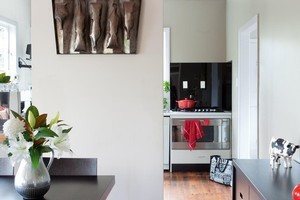 When they bought their Mission Bay home more than three years ago, Julia and Cliff Paul planned a major renovation.
Previous owners had carried out some alterations, but there did not appear to be an overall plan. With his architect's eye, Cliff could see what had been done to the house and why.
"Each addition had been done to solve a specific problem, but in the end resulted in a real hybrid house," he says.
The Pauls have plans for a major renovation within the next few years. The reason they haven't rushed into a renovation is that, with some clever decoration and styling, they have managed to make the home thoroughly liveable.
While Cliff is the expert on architecture, Julia takes charge of the interior decorating.
Her décor formula is "classic neutrals with punches of bold colour", allowing her love of quality design to shine out against an understated backdrop.
Design quality is something she looks for no matter what she is buying, and she likes what she sees on the home front.
"It's exciting to see that good design is being incorporated into all aspects of what we produce locally," she says.
"We can't compete with mass production overseas, but we're definitely leaders offering something that's a bit different."
And that's part of the reason she started her own business, making her own range of bed linen.
The decision to go into business for herself came when she couldn't buy good bed linen that wasn't overpriced. So she made a pair of pillowcases then turned some out for her mum and her business was underway.
Julia likes modern, clean lines but also loves vintage or quirky items, the sort of pieces that have their own story to tell and make a house a home.
"We have so many things that we consider precious. They're not hugely valuable, but their meaning counts.
"One thing we'll keep forever is our ceramic cow and calf that sit on the dining area sideboard. We bought them from a Tauranga gallery while there on holiday. The quirky pair add personality to our living area.
"I grew up on a farm, so I love the idea of having a taste of it in my city home."
Style tips
Quality counts: Buy quality items and they will last a lifetime.
Kiwi culture: Supporting New Zealand designers is doubly rewarding. "Some of the local materials used to create different products are amazing," says Julia. "It's that Kiwi number-eight-wire mentality."
Material difference: Investing in a selection of quality bed linen that you can mix and match gives you more options. "It's an easy and affordable way to update a room with a fresh new look."
Leanne Moore is the editor of Your Home & Garden. For more pictures and the full story on this house see the latest issue of Your Home & Garden, on sale Monday, November 7.