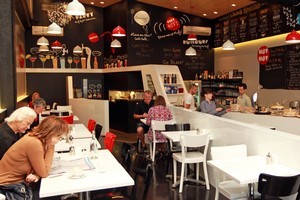 I swore I wouldn't go back to Nuffield St. The little restaurant strip started up some time in 2006 as an attempt to answer the question: Why does one of the slickest shopping streets in the city have nowhere you can get a decent meal?
But an old colleague mentioned this newly opened place, in which a relative of his is involved, and suggested I might check it out.
"Hmmm," I said. "Could be dodgy. What if I don't like it? You might not like me?"
"I don't like you already," he said. No, he didn't. He assured me that I was free to form my own opinion but that if it was the wrong one he would come round and break my legs. As one prepared to stoutly defend the freedom of the press (as long as it doesn't hurt too much) I felt it my duty to take a look.
It was a dispiriting undertaking because Nuffield St doesn't have a lot to inspire a diner who wants more than "fries with that". Outlets of franchise operations proliferate and any sign that you're in New Zealand rather than, say, Butte, Montana, is conspicuous by its absence.
The street's eponymous cafe is the third to occupy the split-level premises at 11a. The first was Olive, a very unimpressive tapas place, and the second, which I never tried, was Kuzhina, so named for the word for kitchen in the owner's native Albanian. Kuzhina's failure to prosper seems to me proof of the maxim that a restaurant's name should not leave prospective customers guessing what kind of food it serves.
As a name, Nuffield St Cafe pretty much nails it, particularly with the addition of "bar and bistro" to the sign outside. It's an all-day affair - it offers eggs benny to spag bol and pizza and (why don't more cafes do this?) has a decent pizza-pasta-salad takeaway menu. But the three of us who bowled up on a Friday evening had dinner in mind.
I can't remember precisely what Olive looked like, although I remarked at the time that the colour scheme was like that of a boarding school.
The new fitout is more like futuristic milkbar. Pine ply ceiling and white laminate tables make it something of an echo chamber, so it can be a bit noisy, but it's cheerful and bright.
Chef Kasiano Timu Tagoai's sensibly compact dinner menu comprises nine pizzas, six pasta dishes and five mains.
The appetisers include his speciality of paper-thin venison carpaccio, which he's done in restaurants in Mission Bay and Albany. We shared a plate. He's still swamping it with too much mesclun, if you ask me, and I thought the serving size was restrained to a fault, but it tastes as good as ever.
The Professor's mate (who is now a professor, too and they talked shop so much that I felt like changing tables) was attracted by the fish of the day, deliciously moist hapuku fillets which came with crispy potatoes and a salad laced with smoked tarakihi, a smart idea in which the two tastes played off each other well.
I was equally happy with a large slab of pork belly, twice-cooked so as to be greaseless, although still fatty and tasty, and topped with a superb cap of crackling that was both brittle and chewy. I wasn't much impressed with an accompanying stodgy pea risotto which had been sitting around for too long.
But the Professor's butternut and feta ravioli was the low point - the pasta thin and limp and lacking texture, the filling bland and featureless.
Some quite divine desserts - a decadent zabaglione on top of bitter cherries and a dark chocolate risotto - certainly sweetened our mood as did the warm and attentive service. For the most part, this is an impressive operation, especially considering the company it keeps.
Now if you'll excuse me, I have to make an appointment with an orthopaedic surgeon.
* Fairness demands that I note there is some good (and bad) eating at the other end of Broadway near Davis Cres.
Need to know
Value: $$
$ = $20-$40; $$ = 40-60; $$$ = $60+.
(Price guide reflects three courses for one person without drinks.)
Also try:
Nuffield St dining is never going to knock anyone's socks off but there's certainly plenty of choice, from a brewbar to a branch of Wagamama. Mexicali Fresh's Mexican food is almost risibly awful.