Address: 455 Richmond Rd, Grey Lynn
Ph: (09) 361 6970
Open: Sunday 3pm-11.30pm, Mon-Thurs 4pm-11.30pm; Fri-Sat 3pm-2am.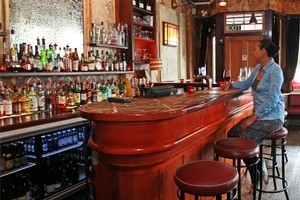 There is something about the Gypsy Tea Room that makes me appreciate how much thought has gone into it.
If I had to sum up this rightly lauded bar in one word it would be "thoughtful". Everything has been well-thought-out and there is a sense that real care is put into the bar.
From the decor to the staff, the GTR manages to be both humble neighbourhood bar and a class place to take someone special.
It looks lovely, but the real beauty is its drinks selection.
From the thoughtfully (there's that word again) composed wine list to the range of craft beers, the bar does what it does very well, which is why it has been so popular for so long. I love to walk into a bar and see one of the Cooper's beers on tap. When I visited the Tea Room it was Cooper's Pale Ale, an Aussie classic and a perfect choice for a bar that can't afford to have multiple taps.
There is also a decent range of beers in the fridge, with the Emerson's and Little Creatures breweries prominent.
The spirit selection is top notch and the cocktails well made. The food is also good, coming in a range of snack-sized portions that won't drain the wallet.
All in all, a classic little bar and one that has been quietly and successfully going about its business for years without shouting about it.
A great spot.
Scores
Service: 4/5
Drink: 4.5/5
Food: 4/5
Atmosphere: 4/5
Overall: 4/5