Here are some of the restaurants donating a portion of their takings to the Garden to Table Feast for the Future event.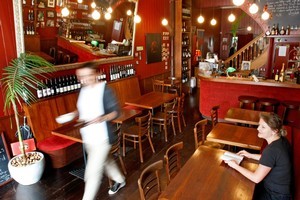 1. SkyCity precinct, Federal St: Depot, dine by Peter Gordon and The Grill
86-90 Federal St, City.
Whether it's Peter Gordon's blend of Asian, Pacific and classic cuisine at dine, the fresh, meat, seafood and special wine list from Sean Connolly's The Grill or Al Brown's fast-paced Depot eatery and oyster bar, you'll be in good company to eat, share and give back to budding cooks and gardeners.
2. Casablanca and Tasca
65 Dining Lane, Sylvia Park, ph (09) 573 6272; Tasca, 25 Nuffield St, Newmarket, ph (09) 522 4443 or 338 Dominion Road, ph (09) 630 6345.
Casablanca's blend of Middle East, Turkish and Moroccan food and Tasca's Spanish dishes are inspired by the owners' travels, presented in a way that Kiwis like.
With the lively, friendly atmosphere and hearty, humble food, the spirit is there.
3. Coco's Cantina
376 K Rd, ph (09) 300 7582.
Renee and Damaris Coulter have won industry awards for outstanding restaurateurs, their packed, friendly eatery is constantly name-checked by the fashion crowd and everyone else. And the food is so good, even the grumpiest of critics comes out smiling.
4. Ella Cafe and Lounge
118 Ponsonby Rd, ph (09) 378 7979.
Erwin Zimmet's place has a small-but-loved menu, friendly on-to-it staff in a cool corner of Ponsonby. Simple fresh produce, nothing easier for a Saturday night.
5. Ima
57 Fort St, City, ph (09) 300 7252
Yael Shochat's Fort St restaurant has had several incarnations, but her heart-warming food has the sort of food you wish your grandmother cooked - if she was Jewish and had Yael's skill. Think fragrant Middle Eastern cuisine of spices and rosewater, warm professional service, and all-day dining.
6. Non Solo Pizza and Poderi Crisci
259 Parnell Rd, Parnell, ph (09) 379 5358; 205 Awaawaroa Rd Waiheke, ph (09) 379 5358.
Antonio Crisci and partner Vivienne have warmed diners' hearts and stomachs for years with generous, authentic Italian fare and welcoming service. Both places will charm and satisfy.
Feast for the Future
Next Saturday, November 12, more than 26 great Auckland restaurants are supporting Garden to Table by donating a portion of Saturday night's takings. Garden to Table supports primary schools teaching children to grow, harvest, prepare and share food through gardening and cooking.
Other restaurants include Antoine's, Cibo, Clooney, Delicious, The French Cafe, Harbourside, Meredith's, Mollies, MooChowChow, O'Connell Street Bistro, Sidart, Soul, SPQR, Sunday Painters, The Engine Room and Two Fifteen.