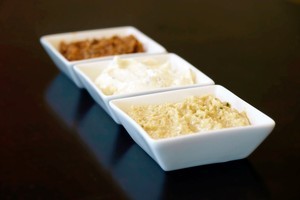 When Payam Parhodh came to New Zealand from Iran three years ago, he soon realised the appetite people had for Middle Eastern food here. Needing a way to support himself financially, he started selling the pickles that are a regular feature of Iranian cuisine. He made some sales but it really didn't fly and he struggled to even pay his stall-holder rent.
One day as he was packing down his stall, a Kiwi friend suggested he reproduce the dips from his homeland as an alternative.
As a trip to any supermarket will prove, that category seems to be expanding beyond exponentially. Payam will be forever grateful for that advice as from the outset his dips were a hit and he is now a regular feature at a number of markets around Auckland.
He couldn't quite believe that his grandmother's recipes could prove so popular.
Payam sells dolma, feta-stuffed pepperdews, feta, falafel and a range of dips. His dips are truly divine, especially the mirza ghasemi which sells out most weeks. It's eggplant-based with the most wonderful combination of feta, cashews, garlic and coriander, and I suspect a bit of tomato paste and the smallest hint of chilli (almost imperceptible).
He is generous with the nuts, giving it a great chunky texture.
For a hummus-style dip with a good kick you have to try his nokhody.
It has coriander and jalapeno peppers in it to give it some fire, and that great home-made texture. It is delicious - without the vinegary taste commercial hummus has - and with enough lovely tangy jalapeno spice to make you sit up and take notice.
The addition of honey, lime juice and black pepper is fantastic.
For something more cooling on the palate, his feta-based dip with mint is great. The mint cuts through the creaminess and gives it the most wonderful aroma too. You don't need a lot and it can be used as a spread as well as a dip.
Payam does other variations on the feta dip from week to week. To add to his stable he is also importing pomegranate products which are attracting lots of interest as more about their health benefits are discovered.
So if you're bored of supermarket staples for your Friday night nibbles, track down Payam for homemade dips with a difference. We guarantee you'll be back.
Where to buy:
PNP Dips are available at Ranui market on Fridays and Howick Market on Saturdays. On the first Sunday of the month you can find them at Coatesville, then all other Sundays at the Hobsonville Pt market.