Garden designer Damian and operations manager Darryl-Lee Wendelborn moved to the North Shore's Chatswood four years ago with their children Stella and George. Damian tells Catherine Smith how they've come to love their piece of bush paradise.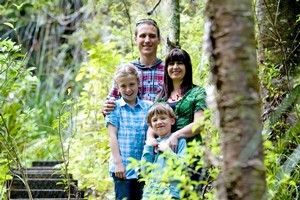 We had built a house way out past Waitakere township, overlooking Bethells Beach, and I imagined sitting out there drawing garden plans in peace, but in reality we were driving into town every day at least once.
So we moved closer to the city to be more central. As Darryl-Lee works in town and I've got clients in Herne Bay and the central suburbs, it had to be somewhere on the lower North Shore.
We had no idea about this area, but we took a drive through here and it was all leafy and that was it.
We knew very little about it until we took a turn off the main road, even though we had some friends in Birkenhead.
It had some good examples of 1970s architecture, so we managed to pick up a brick and cedar house with good bones.
The house has great light and big windows and we're up close to one end of the Chatswood Reserve, so we feel joined to the native bird life and the trees.
We have a couple of youngish kauri on our own and adjoining properties, and we're elevated so we see lots of tuis, fantails and waxeyes too. Not so many wood pigeons recently, those guys are the Hercules of the bird world.
You don't get the infill housing here, and there are no apartments, so it has a much more spacious feel.
This is a purely residential suburb - they didn't have cafes in those days - so it's all about nature.
But, that said, the Mediterranean Cafe on the main road in Birkenhead does really good pizza and Middle Eastern food, and there's even the occasional belly dancer.
There is a good community aspect around the school. I've been helping out this year to design the school playground. It was good to see some progress after years of fundraising for a school hall.
Every second year there is a school production and everyone is involved - no one is left out, for a good five or six weeks.
This year it was a reinterpretation of Rumpelstiltskin.
I keep coming back to the bush as our big thing, it's such a great asset.
The kids can walk through on their way to and from school, there's real adventure around the boardwalks and there is that earthy smell of the bush.
Around six or eight streets have foot tracks, so you can more or less walk through the whole suburb via the bush.
The kids really love walking to things, they no longer have to be driven like in the country when it was 10 or 15 minutes' drive to get to anything.
Darryl-Lee used to take the ferry to the city, but I'm big on bridges and concrete, so am pretty keen on the new tunnel opening. And to cycle across the bridge, that'll be magic.
Rongohau (Kendall Bay) connects through to the Chelsea Sugar refinery, or back to the defence department's land on Kauri Point. Kendall Bay is a real asset - when there is the perfect combination of a high tide and no northwesterly wind - but it's got a sandy beach and wetland.
Soldiers Bay is pretty popular with the dog walkers.
There are fantastic views across the harbour to the Waitakeres from the Kendall Bay walk, plus there's the Fern Glen Native Gardens on Kauri Rd and the glowworms in the Chatswood Reserve.
In Highbury, the views are wasted - the best view is from the carpark at the back of the shops.
But the Birkenhead Library is a magic piece of architecture, well worked with the Jeff Thompson sculptures, so gradually we're getting there.
Damian's Picks
The Mediterranean, Unit V, 162 Mokoia Rd, Birkenhead, ph (09) 419 0911.
Fernglen Native Plant Gardens, extension of Kauri Rd, Birkenhead. Open daily 9am-4pm.
Kauri Park, in Rangatira Rd, Birkenhead.
Chatswood Reserve, reached from 17 entrances in surrounding streets, the reserve is a remnant of a kauri/hard beech forest.
Kauri Point Centennial Park, Kendall Bay, accessible off Onetaunga Rd, lookouts to harbour views and the only remaining example of a fortified pa on Waitemata Harbour.
Birkenhead Library, Nell Fisher Reserve, Hinemoa St, Birkenhead. Open Monday to Friday: 9am to 5.30pm, Saturday and Sunday: 9.30am to 4pm, ph (09) 486 8460.
Be in to win
Come and check out Damian's own garden plus two others in Chatswood, along with 21 other designer gardens of all shapes and sizes as part of the inaugural Auckland Garden DesignFest on November 19 and 20 (meet designers on-site at the gardens). Tickets online or any Palmers Garden Centre in Auckland. All proceeds go to KidsCan, CanTeen and Ronald McDonald House Auckland. Auckland Garden DesignFest and Weekend Life have three double passes to give away to this exciting new garden design event (each double pass valued at $100).
To enter go to nzherald.co.nz/weekend, enter your details and the keywords "Garden DesignFest" by midnight Wednesday November 9.