How chain stores are interpreting summer trends - plus key pieces under $160.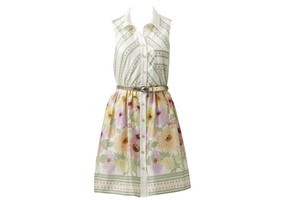 We may want to spend a bit more on investing in high quality garments but the reality is that chain stores are there, they're affordable and they're fun. And this season especially, there are some very stylish bits and pieces on offer. But while it may be fast fashion, your spending doesn't have to equal mindless fast fashion consumption.
Even the most well-meaning shopper succumbs to the charms of a chain store once in a while, but they know that the key to shopping the chain stores is consideration, and knowing what they're buying into - being aware of the trickle-down effect.
Some may brush off the creativity and originality of "high fashion" designers (their tendency to look to styles of the past as proof), but what they put forward eventually makes its way down to the high street; even if it's somewhat diluted.
All those vibrant colours in stores at the mall right now? The 1970s colour palette - mustard, brown, maroon - that was popular throughout winter? The on-holiday look pervading chain stores? There's a reason that's all there, and most of these high street trends can be traced back to the runway.
So how are chain stores interpreting these runway trends for summer?
Cheap as trips
This summer stores are indulging our summer escape fantasies, with retro resort inspirations and summer holidays in dress form - from Glassons' Wish You Were Here swimwear collection to Max's Resort range and Forever New's current in-store Palm Springs collection. British Vogue dubbed it "tourist-class style".
The designer version includes visor caps, souvenir and postcard prints and Hawaiian florals galore, while the local chain store version has a little less irony - but still with Miami brights, quirky beach-inspired prints (palm leaves, shells), wide-brimmed hats, and statement jewellery made to be worn basking poolside.
Where it came from: Pretty much every Resort 2012 collection, from Stella McCartney, Givenchy, Celine, Marc by Marc Jacobs, Louis Vuitton, Prada and more.
On stripe
Spots may be the fashion print of choice at the moment for the likes of Stella McCartney and Marc Jacobs but, surprisingly, they've failed to make much of an impact on the high street here, with stripes continuing to dominate the racks. This summer it is less about the traditional navy or red Breton stripe, with a focus on wider lines and tonal tropical-heat colours - red on pink, orange on purple. How to make it look "high fashion"? Team stripes with stripes.
Where it came from: Well, no one really. Stripes reappear every summer, just like florals in spring and velvet in winter. But if we're stretching to find a designer reference, we'll go with the fruity coloured stripes in the Prada Spring 2011 collection.
Global prints
American chain store Urban Outfitters got into trouble recently after using the word "Navajo" to describe some of their product (the "Navajo hipster panty" was what caused most offence), and describing prints as "tribal" seems almost as patronising - so we'll call them "global prints". They bring to mind a glamorous jetset traveller who has made a getaway to Mexico or Morocco, and they are appearing in chain stores for summer. Country Road's summer range is all rich, Outback explorer with ikat and global prints; Dotti has a few offerings as well - more of a disco take on Aztec.
Where it came from: Proenza Schouler ... who took it from traditional craftspeople.
The colour
All those vibrant brights in stores at the moment can be traced back to one very influential man: Raf Simons, with his recent collections for Jil Sander continuing to shape fashion on all levels. Whether it be juicy hues (red, yellow, lime, and this season's ubiquitous colour, orange) or deeper block colours of bright blue or apple green, this summer there's not much room for black.
Where it came from: Jil Sander, neons from Christopher Kane and Proenza Schouler.
Candy shop
The beauty of (some say problem with) chain stores is the speed with which they can move, bringing to the shop floor ideas and designs inspired by designers before they can even get them out - so the effects of the feminine themes and pastel palette of the most recent international shows can already be seen in some stores now. This trend is about what Miuccia Prada described as the "taboo of sweetness" in fashion, and though the chainstore version may be a little less thoughtful, there's still similar gelato-inspired colours, retro-style party dresses (Portmans has several in store now as part of their Dress Up range), and sugar wouldn't melt details like Peter Pan collars, lace and crochet. The most popular way to cheat this look: think pink.
Where it came from: Louis Vuitton, Chanel, Versace.
You crazy cat!
Sometimes there are pieces that are a bit of fun, and not necessarily worth dropping a whole month's rent on. This is really the genius of chain stores: fun and frivolity. Ruffle-necked polka dot dress? Why yes you can have that, if you visit Topshop. After a pair of hibiscus flower print pants? Step into Glassons. A neon pink Aztec print dress? Thank you Dotti. Just be mindful of what you're buying: you don't need 25 dresses that cost you less than $150 (and if you do, go vintage).
Where it came from: True eccentrics aren't inspired by anyone but themselves, although perhaps the quirky, individualistic spirit of the new influential fashion brigade - Anna Dello Russo, Lady Gaga, Iris Apfel, Florence Welch, Catherine Baba - has had a little influence on chain stores here.
Buyer beware
Some quick fast fashion shopping tips:
1. Don't trust sizing. The same goes for any type of shopping really. The number on the tag doesn't mean much: try things on.
2. If in doubt, go for a bigger size. Cheaper fabric never looks good when it's tight and bunchy.
3. Don't always stick to the same chain store(s). You never know what gems you may find at a store that you think is "too old" or "too young".
4. Fast fashion quality is a lot better than it once was, but steer clear of any shoddy detailing - weak buttons, loose threads or stitching. It will only get worse when you take it home.
5. Be careful when buying tailoring in a chain store, notably blazers and trousers. Some do an incredible job with the fit and fabric (Country Road and Cue come to mind), but others can do it shockingly badly.
Stockists:
Country Road (09) 529 1987, Farmers, Forever New (09) 846 4091, Glassons (09) 520 8520, Kookai (09) 522 1716, Max, Number One Shoes 0800 NO1SHOES, The Warehouse store nationwide, Topshop at The Department Store (09) 489 4229, Trenery (09) 927 7136.