Master the paddle to stand the new water sports craze. By Libby Nicholson-Moon.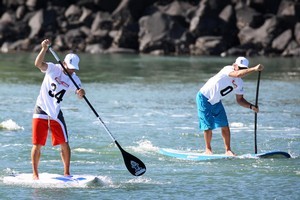 My husband Bruce has taken up one of the world's fastest growing sports, stand-up paddle boarding, or SUP, as it's commonly known. It doesn't mean he's turned his back on 30 years of windsurfing but, for now, he's enjoying New Zealand's abundance of coastline, lakes, rivers and harbours, without the need for wind.
It's a good idea to get a few lessons from a reputable professional, on a calm piece of water devoid of tidal currents and with little or no wind. Popular areas for beginners in Auckland include Pt Chevalier, Tamaki Estuary, Mission Bay and Lake Pupuke in Takapuna.
One of the first basics is learning where to place your feet, which should be facing forwards and next to each other, about a shoulder width apart.
Next is to master the use of the paddle, which is designed with an angle, similar to an elbow shape in the shaft, to maximise efficiency. Your paddle should be approximately 8-10 inches taller than your height and you can ascertain where to position your hands on the paddle by lifting the paddle and balancing it on the top of your head, with your hands placed so your elbows are at a 90-degree angle.
You then learn how to enter and exit the paddle blade in and out of the water, understanding the recovery and return of the blade, as this is all-crucial to the movement and direction of the board.
It pays to hire gear before you commit to the sport, as the initial investment in gear will be about $2000. This will include a board, paddle and leg rope, and suitable attire, including either a safety vest, wetsuit, dry suit or, in milder conditions, simple swimwear. Board sizes are based on the paddler's weight and experience, so for beginners that means wider, flatter boards for stability, and for the more experienced, narrower boards.
There are a few rules of thumb when learning to paddle board: always paddle with friends and, for longer expeditions, have a safety boat in tow. Work out a safety plan, and invest in a GPS or compass. It's also important to learn to master your technique on flat water before you hit the waves, as SUPs are larger and heavier to manoeuvre than surfboards. And always check the wind and the tide before embarking on a paddle. If in doubt, consult someone who is more experienced.
As you become more adept and confident, there are several places around Auckland to venture into the waves, including Orewa beach, Takapuna beach, and for the more adventurous, Piha and Muriwai.
The added attraction with this sport is that you will benefit hugely from the upper-body workout and, if my husband's developing abs are anything to go by, better muscle definition.
I haven't ventured out on a board beside him yet but once the warm weather arrives, I'll give it a go. It beats being inside a gym over summer.
Hire before you buy: Rent a board and get a lesson for between $25 and $40 an hour to see if SUP is for you.
Pt Chevalier: NZ Boardstore, 5 Raymond St, (09)815 0683.
Takapuna: Standup Takapuna, 53 Hurstmere Rd and set up at the northern end of the beach, (09)4867440.
Okahu Bay: Ferg's Kayaks, 12 Tamaki Drive, ph (09) 529 2230.
See supsnz.com for more information.