Inspired by the Wimbledon tournament, Danielle Wright headed to a court cardio class which combines an aerobic workout with tennis.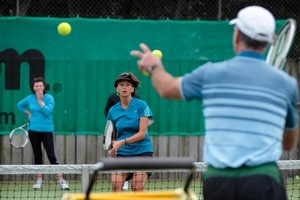 You might think it sounds a bit complicated for a novice tennis player, especially remembering how hard aerobics was in the 80s without adding tennis racquets and balls into the mix.
But, there are quite a few women here today who had never played tennis before trying court cardio, and they love it. It's now Tennislife's most popular programme delivering a variety of movement drills and repetition skill work.
Some women, like Leslie Egnot and Jan Shearer, come from other sports, in this case, yachting. They play court cardio tennis for the physical benefits and improvement in skills, as well as the social aspect.
"People get sick of running, or hitting the gym, and with shortness of time, court cardio is the ideal way to have some fun with drills, get a cardio workout and improve tennis skills," says Kevin Woolcott, who has been teaching at the club for 22 years.
Although Kevin started tennis aerobics in the city during the 80s purely for businessmen, he now says women make up 80 per cent of his coaching, and the rest are mostly children.
Today, there are six players to a court and we start the one-hour session with a warm-up and drills that focus on keeping us moving, rather than on technique.
There are three people on either side of the court and we're hitting to each other while running in a kind of conveyor belt around Kevin.
In between the different drills, you get a mini-break while picking up the balls. You're then faced with dodging three players hitting them right at you and I collect a few bruises, as well as balls, on the day.
Still, it's worse for the coach in the direct firing line and Kevin takes his revenge by calling out our names for each shot, like a court conductor, varying the shots so we have to run to get them close to the net, then next wider than the doubles markers.
Like traditional aerobics, there's a bit of pleasure that comes from figuring out the steps as we're put in pairs and have to circle to the left, then the right, at the same time taking turns hitting the ball.
Somehow, I managed to avoid being hit in the mouth by my partner's racket swings.
Around the halfway mark we swap courts and begin a few knockout games where you could be playing three people on the opposite court or one; the players take this part quite seriously.
Tennis seems to attract a certain type of player, and there's always one with a bit more of a competitive streak.
One player tells me off for lobbing, as if I could choose what shot my racket decided on, and then complained the other players were "playing dirty" or she'd been unfairly put on the hardest side of the court looking into the sun. She needn't have worried, she was still by far the best player on the court.
I've never been good at tennis so with midweek doubles games I'm usually stuck at the net while the ball flies over my head as the better player shouts "mine" in horror as I put my racket up.
Then there's the tea and cake that's impolite not to eat after standing aimlessly on the court in the sun for a few hours, so to do a court cardio class was, thankfully, a bit more effort than I'm used to on the tennis court.
It's not as tiring as a private tennis lesson, but it's the next best thing, for a lot less.
And even the good players are missing shots because of the pace, so it's only fair that us beginners put any missed balls down to the conditions as well.
Game, set, match
* Book online, Forrest Hill: $75 for five sessions, $150 for 10 sessions or $20 casual placement. Mondays, Thursdays, Fridays at 9.15am ; Tuesdays at 6pm and 7pm; Wednesdays at 6.30pm.
* If you want to ease back into tennis first, Tennislife have an Easi-Tennis for Adults group lesson as a refresher.
* For information about court cardio at other clubs, contact Tennis Northern at (09) 414 5530, or Tennis Auckland at (09) 373 3623.