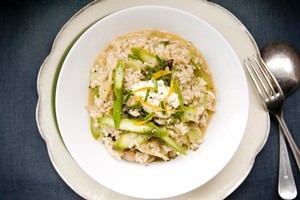 Tea for two
Traditional asparagus rolls for your retro bring-a-plate occasion will be the first to disappear: steam asparagus (softer than you'd usually do), spread a good mayonnaise on thin brown or white bread, roll up and serve on your prettiest china.
Barbie beauty
Quickly sear steamed asparagus and fresh scallops or salmon on the barbecue, toss through an Asian-inspired dressing and serve on baby salad greens.
Spring risotto
Stir sliced asparagus through a creamy risotto, along with sliced fennel bulbs, lemon zest, finished with ricotta or parmesan cheese.