Jeweller Angela Kelly loves objects that remind her of her past - and that of others.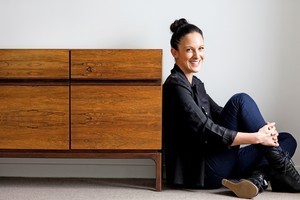 Angela Kelly creates beautiful jewellery from her Grey Lynn studio, working closely with clients on bespoke designs, designing small, feminine fine jewellery collections and reworking heirloom pieces to make something new from something old. Her work focuses on craftsmanship, with each piece created by hand. She tells Viva what's inspiring her right now.
10 FAVOURITE THINGS
1. Greg Harris
I started following Greg's work after meeting him in New York a few years ago. Greg is a "fashion photographer extraordinaire" but also does amazing portrait work. He captures his subjects with such intensity that the pictures are far more descriptive than words could ever be.
2. Rosewood credenza
I recently inherited a Rosewood credenza that was bought second-hand in Wellington in the 1970s. I'm a lover of mid-century Danish furniture and this piece seems to fit into almost any environment. It's simple elegance at its best.
3. Durston rolling mills
I like things that have a story. I bought this really old Durston steel rolling mill from a jeweller when I first arrived in Auckland a few years ago. The paint is all chipped off, it's greasy and rusty in places but I love it that way.
4. New Zealand music
I listen to music all day while I work. It inspires me and helps me remain in a creative mindset when there are other things distracting me. My favourites at the moment are Barnaby Weir, the Nudge, the Phoenix Foundation and L.A. Mitchell.
5. Arcoroc "octime" French dinnerware set
When I was younger the family would get together every Sunday for a feast of European-inspired delights cooked by my French/Italian grandmother. Often served using this dinner set, it reminds me of those special times now past.
6. Super 8 camera
My sister documented a summer we shared in Northland on super 8mm film. I love the graininess, the natural colours, the little flicker of light. It captures a thousand tiny moments carefully selected by the person behind the camera.
7. Northland
Where the New Zealand that I grew up knowing still exists. Holdens with bench seats, kids running barefoot, old Raleigh bikes and 50c hokey pokey icecreams. Grass roots stuff. There are so many beautiful beaches to explore and the local seafood is never disappointing.
8. Turnedout.tv
I love Turnedout because it has such great style and integrity. Maya uses a Leica M6 to capture real people doing real day-to-day stuff, made to look super-uber cool. It's not just the fashion it's the people, captured for a second by someone who finds them intriguing.
9. My studio
It's my own little sanctuary, where I get to be creative. It's also a space where I learn about my clients, hear their love stories and how they met their bride or groom to be. I also enjoy the eclectic community of Grey Lynn and I'm lucky to be able to sit at my desk and see the diversity of the people wandering by.
10. Diamond Tory Circle
When I finally graduated from my apprenticeship in 2007, my boss, mentor and friend Victoria Taylor presented me with her signature piece - the "Tory Circle" set with diamonds. I love and cherish it.