Kate Elliott talks about being a fashion leader, online shopping and environments with soul.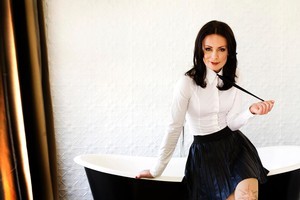 Kate Elliott will be a well-known face to many, having appeared in film and TV roles in such productions as The Insiders Guide to Love, 30 Days of Night and The Cult. She is somewhat of a chameleon: playing Katherine Mansfield in the recent telemovie Bliss, appearing in Shortland Street as gothic-Romanian bride Zlata Waldheim, and even once working as fashion editor at Real Groove magazine. She tells us about her approach to style.
My love for fashion began ... by watching my mother. She always said: "Look at what the girls are wearing in Paris Kate, be a leader not a follower."
It's not "fashionable", but I like ... My workout gear.
My approach to beauty ... Be happy. Nothing makes you look better than a life full of laughter.
My favourite designer/label is ... Stolen Girlfriends Club, because of their fresh design, and because they always dress me so well.
My most recent purchase was ... Lingerie from Smith and Caughey's, and stockings.
Next on my shopping wishlist ... Wedges from Mei Mei for summer. Chanel flats. A black and white T-shirt from Ruby.
I rarely shop apart from online ... but I do enjoy Scotties Recycle, and out of town thrift stores. Online, I like ShopBop. Clair Inc. and Topshop.
My favourite place ... I like environments with some soul, like [restaurants] Coco's Cantina or Tanuki's Cave. I guess I feel more 'at home' there.
Chain stores: love or hate? Necessary evil.
In my makeup bag is ... Chanel bronzer and YSL pen for a fresh face. Chanel Liquid Black eyeliner and Maybelline mascara to bring out the eyes. Paw paw for pretty lips.
My signature scent is ... Moschino I Love Love for summer, and Gris Clair by Serge Lutens for winter.
My favourite item of clothing is ... at the moment my American football T-shirt from Dead Man Vintage; it's super cute and it's going to rule in summer.
The best dressed people in NZ are ... Sonja Batt, Emma Cruickshank and Isaac Hindin Miller.
My favourite accessory ... My sunny disposition.
The oldest, most treasured thing in my wardrobe ... I have an amazing collecting of 1960s and 1970s dresses my aunt kept for me. I'll treasure each one till I can hand them down to [my daughter] DeeDee.
My ultimate fashion plate ... Audrey Horne. Alexa Chung.
My style is ... Constantly evolving but I aim to have fun and be brave.