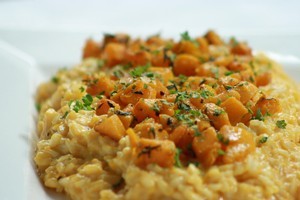 1¹/³ cup Olivado olive oil
1 onion, finely diced
2 NZ garlic cloves, crushed
1 ½ cup arborio/carnarolli rice
1 cup dry white wine
1 -1 ½ litres chicken stock
1 butternut - one half baked in the oven and then pureed; the other half peeled, cut into small dice and sauted in a little oil, butter, fresh thyme, salt and pepper.
1 tsp Colman's mustard powder, add to pureed butternut ½ cup parmesan cheese
2 tbsp Country Goodness cream cheese
1. Put olive oil into a deep saucepan and saute onion until soft but not brown, add garlic, stir for another minute.
2. Add rice; stir until rice is coated with oil. Add white wine, stir until wine is absorbed then leave to rest for 1 minute.
3. Bring back to heat and slowly add stock. Risotto should take 17-20 minutes to cook once all of the stock has been added.
4. Just before the risotto is cooked, add pumpkin puree, roasted pumpkin pieces, cream cheese and parmesan. Stir to combine and cook until the rice is al dente. Adjust seasoning and rest for 4 minutes.