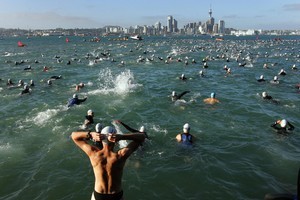 Living in a city surrounded by water, it's no wonder Aucklanders are leaving swimming pools behind for the sea. With summer approaching and the water warming up, swimmers are donning wetsuits and plunging into the Hauraki Gulf. Some hardy swimmers tough it out during winter, often suffering "icecream headaches", but early November is the ideal time to get into the sea, when the water temperature reaches the high teens.
Last year, more than 5200 people participated in six events in last year's Ocean Swim Series. It's come a long way since organiser and New Zealand representative swimmer Scott Rice first set up the King of the Bays event from Milford to Takapuna in 2004.
"I think people are enjoying the challenge that open-water swimming gives them. It's like running a marathon. Completing the harbour crossing, for example, is a real accomplishment," says Andrew Mackay of Quantum Eve.
Sea swimming is a completely different experience from doing laps in a pool.
There's no putting your feet down, for starters.
Plus, there are no lane markers to stop you going off course and you have waves to negotiate. Suddenly, the council pool seems inviting.
It may seem daunting at first, so stay parallel to the shore and swim along the beach, for starters. During my first sea swim I swallowed enough salty water to fill a small aquarium, and had a mild bout of motion sickness, but your confidence will increase with practise.
Try to find an experienced group to swim with or sign up for an ocean swim clinic. A former New Zealand record-holder, Haydn Woolley, runs 10 ocean clinics (www.oceanclinics.co.nz) in summer. Swimmers are put into small groups and paired with experienced coaches, who accompany you on a paddle board.
All you need to be able to do to sign up is swim 200m non-stop. The clinic aims to make swimmers more comfortable in open water and learn useful techniques, says Woolley.
"They will be able to swim further than they ever have before, learn to 'sight', and lift their heads without slowing themselves down. It's also about getting people used to swimming in bigger groups so they aren't afraid of mass starts," he adds.
While 1500 keen beans are expected to take on the 2.9km harbour crossing next month, the distance is not for the faint-hearted.
For those who fancy giving an open-water event a go this summer there are plenty of shorter events around the city. Takapuna's beach series and the Kohimarama summer swim events - distances ranging from 300m to 2km - are weekly. Kayakers follow swimmers around the course, so there's always help if things get too much.
With so many events to choose from, you'll find it hard not to take the plunge.
Plunge in
Summer Swim Series, Kohimarama: From 500m to 2km. Races start at 6.15pm every Thursday. Enter online: www.summerswimseries.co.nz
Beach Series, Takapuna: Swim, run or paddle every Tuesday , starting November 2. Enter online at: www.beachseries.co.nz.
Ocean Swim Series: Take on just one or all six ocean swim events from Paihia to Akaroa. The series begins with the 2.9km Auckland Harbour crossing on November 13. For more information or to enter online, see: www.oceanswim.co.nz