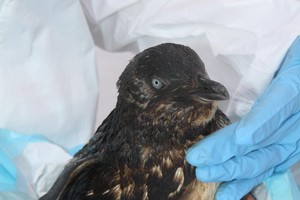 She was watching Home and Away and I wanted to watch Coronation Street in its new, rather inconvenient 5.30pm time slot.
She won after pointing out that I could simply My Sky Coro and watch it later during the half-hour sports news which I always ignore by fast-forwarding through it to the weather. So I watched Home and Away with my daughter and found myself quite impressed with the way the production took us into the eye of a storm which was hitting Summer Bay.
"Who's she? Why are they married? Is that really her father ... he's far too young," I said, bombarding my daughter with questions as she tried to watch her favourite soap.
"Just watch, I'll explain later," she said a little tersely before noticing that I was doing something with my hands other than holding a glass of chardonnay.
"What are you doing?"
"Knitting for the penguins," I replied, pausing for a sip of wine to congratulate myself for having successfully cast on 36 stitches.
"Oh God," she replied before yelling, "Dad, Mum's gone funny again. She's knitting."
I tend to knit in seasons. There was the season of knitting fingerless gloves. I had intended to knit two, obviously, but ended up knitting three because one ended up with a finger hole emerging out of nowhere and rendering it useful only for someone who had a finger growing out of their palm. I was so good at knitting fingerless gloves in the end that I received orders from every member of the family before deciding that the season had ended.
A few months later, came the season of knitting beanies for the 30 per cent of babies born at Middlemore Hospital who go home to unheated houses. My beanie-knitting had been so personally rewarding - I once knitted two in one night - that I had encouraged hundreds of people all over New Zealand to get into it and was officially thanked at a morning tea at Middlemore Hospital last week.
Now, it was the season for knitting penguin jumpers. I had been asked to spread the word again as bird rescue teams were saving all the little blue penguins who were smothered in oil following the Rena grounding on the Astrolabe reef in the Bay of Plenty. They would give the penguins a wash and then encase them in a knitted jumper to stop them preening their feathers and ingesting the toxic oil.
I had just finished the ribbing when a news promo came on the screen. "Look there they are," I shouted enthusiastically. "Little penguins in jumpers. That's what I'm doing. Do you think I should do stripes or just one block of colour?"
Then I remembered that during my last knitting season I discovered to my peril that it's best not to drink and knit. I had finished my glass of wine and was forced to search my knitting for six missing stitches.
"Time to cook dinner," I said laying my penguin sweater down on the couch, still missing its stitches."Call me when the penguin item is on."
I had just finished grilling the eggplant and frying the mushrooms (I'm still in my vegetarian phase) when my daughter summoned me to the lounge.
"They've got enough penguin sweaters," she shouted, before laughing her head off along with my husband who did a very good impression of a penguin excitedly opening a parcel and saying "not another bloody jumper! I really needed socks".
I raced to the screen and watched in disbelief as the reporter put out a plea to stop people sending in their knitting. The penguin sweater season was over - just 10 rows in.