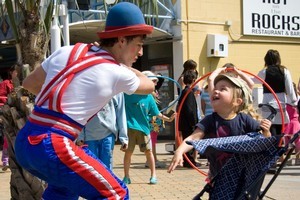 Spring has sprung and the whole country's buzzing with Rugby World Cup fever this long weekend so we've rounded up some of the best events from all over the country. Whether it's food, music or outdoor activities, there's something for everyone.
NORTH ISLAND
Tauranga Arts Festival: October 20-31
Ten exciting days of exhibitions, including music, theatre, cabaret and exhibitions.
Gisborne Wine and Food Festival: October 23
The best of Gisborne's world-class food and wine, showcased in a stunning vineyard location.
Homegrown, Coromandel Peninsula: October 15-23
Celebrate Rugby World Cup 2011 and the best of Coromandel's food, art and music.
The REAL Whanganui Festival: October 9-23
Everything from operetta to historical tours and literary events to art workshops are being showcased during this festival, while rugby, horse and bull racing take place in nearby Bulls.
A Quintessential Kiwi Concert, Taupo: October 23
Located alongside Taupo's official Rugby World Cup 2011 Fanzone, this area will be transformed into an outdoor concert venue until pre-match coverage of tonight's game begins on the big screens.
SOUTH ISLAND
Nelson Arts Festival: October 21-24
Seventeen days of top international dance, theatre, cabaret, music and talks, including works by UK guerilla artist Banksy.
Presenting Canterbury, Hagley Park, Christchurch: October 8-23
The best of the region's food and wine, presented in a traditional market setting within the park's official Rugby World Cup 2011 Fanzone.
This annual rodeo has attracted competitors from near and far for over 40 years. Head along to see some steer wrestling, caslf roping and bull riding.
Westcoast Whitebait Season Festival: Until October 23
This festival in the heart of whitebaiting country wraps up today.
Wanaka Food & Wine Fest: October 22 and 23
A two-day celebration of the area's best wine and food, complete with cooking masterclasses.
Queenstown Jazzfest: October 20-24
A stunning lineup of over 100 artists showcase their talents across a range of jazz genres.