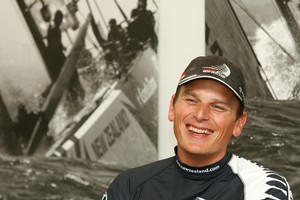 Mention Dean Barker and Richard Macalister and one tends to think of top-end competitive sailing.
As skipper of Emirates Team NZ, Barker is the smiling A-list face of America's Cup yachting in this part of the world.
Macalister, although less well-known, was one of New Zealand's first professional racing yachtsmen. He sailed with Sir Peter Blake aboard Ceramco New Zealand in the 1981-2 Whitbread Round the World Race and includes winning the One Ton Cup, Southern Cross Cup, Kenwood Cup and the Sydney-Hobart among his credits. These days, he is best-known as the managing director of Kiwi Yachting Consultants, a marine import and distribution company specialising in fittings for the racing keelboat market.
Barker and Macalister have, however, stepped out of their sailing comfort zones with their latest venture: Pure Fuel Technology. Formed last year, the company set about acquiring intellectual property in the field of microbial contamination and marine fuel tank cleaning. It then pooled that technology to provide what it describes as a comprehensive range of solutions to the problem of "dirty" diesel.
It is no secret to anyone with a diesel engine in their boat that the fuel they buy, store and use is not always pure. Indeed, "innovative" and "revolutionary" solutions to combat the "diesel bug" seem to appear with great fanfare every few years, only to disappear almost as quickly as they arrive.
Barker and Macalister appear to have taken a slightly more considered approach, using the University of Auckland to check and validate the effectiveness of the solutions they are offering.
Their company has three products on the market, although one of these is simply an inspection port - albeit one that gives access to one of its sterilisation units.
Pure Fuel3, (another way of saying Pure Fuel Cube) is the company's latest offering and the one most likely to attract attention. Described as a revolutionary sterilisation unit, it is designed to effectively control microbial contamination in diesel without the use of harmful biocides or additives.
The unit circulates diesel in the tank or storage unit, systematically drying, cleaning and sterilising the fuel. According to the company's literature, the unit works by using a combination of magnetic force and ultraviolet light to kill any yeast, fungi or bacteria.
In a recent University of Auckland study, a series of engine and biological tests were run on "dirty" diesel and diesel processed by a Pure Fuel3 unit. The results were impressive. Under the Lloyd's Register of classification, the original dirty fuel was classified "D Grade". However, after a day of cleaning in the Pure Fuel unit, it was re-classified "A Grade".
The tests also showed the cleaned fuel delivered better combustion, about 3.5 per cent lower fuel consumption and 30-40C lower exhaust temperatures.
Pure Fuel3 units are now available in a variety of formats, from basic on-off to fully programmable, and in a range of sizes. They can be plumbed into new-build boats, retro-fitted or brought on board as a mobile cleaning solution.
The company's other diesel cleaning product is the PF+. This is an in-line magnetic device, which is designed to fit into the fuel line between the tank and filter.
The company says that, when the fuel passes through the PF+, it is exposed to a strong magnetic force (created by two opposing magnets). This disrupts the cell walls of any microbes in the diesel, effectively separating them from each other. This allows them to pass through the filtration media and be burnt during the combustion process.
Pure Fuel Technology says the process has been proven to reduce filter blockages and wear to fuel pumps and injectors. The cell wall disruption also puts any microbes returned to the tank in a void state, thereby making them dormant and unable to grow, divide or colonise for a period of time.
A recently commissioned report by the university also showed positive results for the PF+. These included a reduction in fuel consumption and a retaining of engine power when biologically contaminated fuel was present.
The PF+ has a recommended retail price of $199, while the RRP for the more elaborate Pure Fuel3 is $1995.