Not prepared to be a brittle, grumpy older woman, Gill South takes tips for looking after her frame.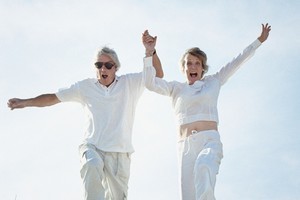 Well, I've just been photocopied. Er, sorry, I've just had a bone density scan in at Auckland City Hospital. It really sounded just like a photocopier as it glided over my body. Apparently the machine is called a bone densitometer, which sounds like something you'd find in Batman's Batcave. It was utterly painless and something I've been meaning to do, as there is a bit of osteoporosis in my family. It being Better Bones Week this week, I thought I'd have a check-up.
Thankfully, the diagnosis is that I am completely normal for a woman my age in both my spine and hips. But just wait until menopause, I'm told by the technician, Lauren Purvis, from the Bone and Joint Research Group. Things will deteriorate then, because that's when I will lose estrogen. Gee, I'm not looking forward to menopause, it sounds like no fun all round.
In my 40s, I am relatively young to have a scan. If I took pregnozone for arthritis or asthma, I'd want to keep an eye on my bone density levels. Typically the bone density bods will see people post-menopause to see what state they are in.
Then there will usually be three yearly checks. By the time I'm 70 there'll be quite a change, Lauren tells me.
How can I help my bone health? I am really keen not to be breaking my hip when I'm in my 70s. I just can't imagine anything more mortifying than going into the kitchen to make a cuppa and breaking my hip on the way. I will be one angry old woman if that starts happening. Apparently more women are hospitalised due to hip fracture from osteoporosis than they are for breast cancer.
Lauren gives me some pointers on how to maintain good bone health. Vitamin D is important. I take it in a supplement monthly in winter, so I'm good there.
Ideally, women should be getting calcium through diet rather than supplements, Lauren says, from foods like leafy greens, rhubarb, fish with bones, chickpeas, yoghurt, orange juice. I'm given a list and eating these foods is no chore for me, I love chickpeas and rhubarb. Exercise is a big one. The disease can be prevented with regular weight-bearing, high-impact exercise. And as a non-smoker and not a heavy drinker except during school holidays, I get a big tick.
A hint that your bone health isn't great is if you keep breaking bones for no good reason. Breaks normally happen at the wrist, hip, pelvis, upper arm and spine.
With women and men living longer, the medical profession is working to proactively fight osteoporosis.
The "silent epidemic" costs the country $330 million a year. Lauren is excited about a new study of 2000 women of 65-plus, which is going to be seeing if it is worth taking a treatment drug, Zoledronate, as a preventative measure.
If you think osteoporosis is purely a woman's affliction, think again. Now that men are living so long, they are getting osteoporosis too, I discover. Everyone loses bone density as they age.
I wish the medical profession success in any advances they make in this area over the next few decades. You do not want to see me as a grumpy old lady. I want to be a merry old thing, living it up and still playing tennis.
Next week:
I've always been intrigued by what the state of my nails tells me about my health. I am booked in to see naturopath Hope Pearce at Purely Health in Mt Eden for a nail examination.