Play with appearances for show-stopping style.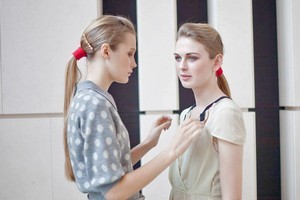 Ladylike or bad girl, it's two sides of the same coin for Kate Sylvester, expressed most literally in her talked-about recent show The Secretary at the Auckland Art Gallery. Inspired by the kinky movie of the same name and the classic Belle de Jour, the styling of her autumn-winter 2012 collection overtly played with these notions, while her designs more subtly unravelled strict dressing.
Take what you like from models acting out the spanking and bondage stuff, but I found it more stimulating enjoying the finer detail of fashion's flirtation with fetish. The twisted red cord wrapped around mannered ponytails was more evocative to me of repressed sexuality than a girl in a pencil skirt trussed up to a tree.
Which is a very roundabout way to get to a column about hair accessories, but also a perfect excuse to throw in some fashion shots, for these are ideal inspiration for a hair how-to. Tying this altogether (excuse more laboured references) is advice from leading show stylist Lauren Gunn, who came up with the hair looks for Sylvester and a dozen shows at New Zealand Fashion Week in August.
She told me then that she had been combing the city's chemist shops for cool hair accessories and having seen them used to good effect on the runway, the Stephen Marr creative director was obviously my go-to-girl for advice on how to wear them well.
With low ponytails all the rage - Gunn says they will knock the topknot off its No.1 spot for summer - accessories have stepped up to the fashion plate.
"When you're stocking up on accessories the first thing to look for is quality, says Gunn. "You really don't want paint-chipped, mangled monstrosities cluttering up your hair like landfill."
The second thing to seek out is style, to match the more sophisticated turn hair has taken. "If you can pull off a fluoro scrunchie do it: then again you're probably 15." The new look has its roots in luxury so Marr says the items you should be looking for are tortoiseshell barrettes and combs, gold slides, black velvet headbands and red silk scarves. (She is a big fan of the Mita brand and also into DIY with what fabric and cords you have at hand).
Marr also hopes fashion's nostalgia trend will see the idea of investment dressing extended to sound buying of the hair tools needed to get great looks before accessories even come into play.
"Hopefully one outcome of this giant trip down memory lane that fashion is having will be that we invest in iconic pieces, not trash, whether that means classic beige trenchcoats, black patent stilettos, dark denim or boar bristle brushes." She explains how to achieve modern styles, while appreciating lasting quality. "Right now full noise volume and wave is the hot ticket [for hair] and there are a few different ways to skin this particular cat."
Start with powertools: a strong hot blowdryer such as Via or Parlux gets the job done and fast. For the vintage waves which are everywhere right now, she says your best tool is a unicorn tong like the Cloud Nine Wand. "Keep in mind that it's the cooling process that sets your hair, so make use of that cool setting on your dryer and always clip waves up for a few minutes."
When it comes to great brushes, she says for strand-by-strand shine you need to go back to basic boar bristle. "This natural fibre adds body while smoothing the cuticle and exfoliating the scalp." Her staples are Denman's Ceramic Core Boar brush and the new Kevin Murphy Roll Brush, which she says will last for your lifetime and beyond. Then there's the Mason Pearson Dressing brush which no stylist's kit would be complete without.
"I remember as a girl I was fascinated by the little ceramic dish of pincurl clips my gran kept on her dresser and my mum always carried a baby Mason Pearson brush in her handbag at all times. Things have changed since the 70s, of course, but there are still a few staples essential for the dresser top: A paddle brush for quick drying (I love Richard Kavanagh's the best), a round boar bristle brush for volume and shine, and a dressing/smoothing brush for styling and backcombing (also amazing for removing tangles at the end of the day). If you like to play with waves or enjoy wearing your hair up you're going to need a tail-comb and a handful of pincurl clips."
Marr says combining quality tools with effective styling products will make great hair achievable. "This summer, looks can go either matte or glossy, take your pick - just keep the volume pumped."
Her picks for styling are Kevin Murphy Antigravity Spray, which smells like lavender and fattens fine hair for natural volume. Then there's Wella Ocean Spritz - "not for the fainthearted, a generous dose gives massive volume and a matte finish" - and Wella SP Delicate Volume which sets waves without stickiness for brushable volume, and finally Kevin Murphy Fresh Hair dry shampoo spray to rescue sad hair.
It's a cinch
Style and secure your hair inventively with well-chosen accessories. Look for tortoiseshell, bold Art Deco inspired black and silver designs and golden clasps and clips which echo the return to popularity of gold jewellery. Headbands are handy; try one in animal print to inject a touch of trend up top, but leave bows to little girls and flower clips for race-day fascinators - you're after a sleeker finish.
Via silicone graphite comb $7.99
Strong, flexible, anti-static heat-resistant salon standard combs from Via have smoothed ends and guarantee symmetry between each tooth to reduce drag and snag. This one is best for sectioning and back-combing.
Kevin Murphy Roll Brush $140
Just the ticket for smooth blowdrying, with a rounded barrel and boar bristles.
QVS Bobby Pin, from a pack at $6.99
This silver pin is designed to be seen, not blend into hair. Try a row for extra effect, especially to secure a kiss curl, as seen on the international runways.
Mita tortoiseshell clips from $6.99
Tortoiseshell always looks sophisticated, making it the perfect hair clip choice for grownups. Mita does several styles, including these slim slides.
Via VHD-600 Ionic Hairdryer $169
Compact, lightweight 2000-watt dryer, with three heat and two speed settings, plus a cool touch button. An internal generator delivers negative ions into the airflow to decrease drying time which is said, with far-infrared heat, to lock in moisture and protect the hair cuticle.
QVS tortoiseshell clip $6.99
Close the deal on a pert pony tail.
Stockists: Mita and QVS from selected department store and pharmacy stands. Kevin Murphy (stockists ph (09) 525 1075) and Via (ph 0800 787 456) from selected salons and hair speciality stores.