Kiwi jeweller Jessica McCormack heads home to show us some bling.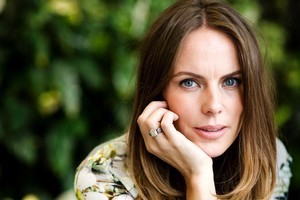 What to do when you have jewellery valued at more than two million dollars on display? Get a security guard. That's what the staff at Simon James Design had planned for a stunning exhibition of high-end jewels from Christchurch-born, London-based fine jeweller Jessica McCormack.
McCormack's story has been told before, so here it is in compact form: she moved to London in 2005 to take up an internship in the jewellery department of Sotheby's, finished the internship and began making jewellery of her own, got a business partner, sold a piece to Rihanna, had her work appear in high profile magazines like British Vogue, Elle and Vanity Fair, and now, has returned home for a brief visit to showcase her full collection here for the first time.
On display are some gobsmackingly luxurious jewels, with every piece featuring ethically sourced diamonds. There's the $305,000 heart and bow diamond earrings, set with a round brilliant-cut diamond weighing 1.60 carats, to a bow, set with 37 diamonds weighing 1.57 carats total, suspending a bombe heart, set with round brilliant-cut diamonds weighing a total of 3.20 carats, set at the centre with an articulated pear-shaped diamond weighing 1.20 carats, and mounted in 18k white gold.
There are the $75,000 "Smoke Ring" earrings (pictured) that feature an annular faceted smoky quartz, a circle pave-set with 21 round brilliant-cut diamonds and a further 45 brilliant-cut diamonds mounted in oxidised silver and 18k yellow gold, and other pieces that reflect McCormack's quirky and modern approach to fine jewellery design - a diamond ring featuring graduated fancy-cut diamonds inspired by the silhouette of New York City skyline; the "Gluttony" pendant necklace that looks like a bunch of grapes made of a cluster of amethyst, peridot and chrome diopside with subtle touches of diamonds, and sculptural, white gold earrings with diamond and rubies, designed as syringes (symbolising the generosity of giving blood). They are incredible pieces, but despite the level of luxury involved with some of her pieces, McCormack isn't exactly precious with her jewels. She wears diamonds everywhere (when we met, she was wearing four diamond and jewel encrusted rings, and had just taken off a pair of hoop earrings with various hidden diamonds; she is currently designing her own engagement ring which will feature diamonds of course), and she transported most of the luxurious pieces to New Zealand from her Clerkenwell salon in two little cardboard boxes (she jokes that the collection is a pain to travel with). For McCormack, whose clients include some very wealthy people, true luxury is about subtlety. Her pieces may be shiny and full of bling, but many of her more accessible pieces feature diamonds and stones hidden or set on the inside - like little secrets.
* Jessica McCormack exhibition at Simon James Concept Store in The Department Store, until Friday. 10 Northcroft Street, Takapuna.