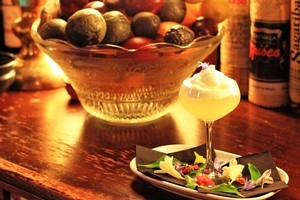 If you fancy a taste of the high life, we suggest you book your pass to the Audi VIP Lounge when you book your tickets here. Passes are $95 and include entry into Audi VIP Lounge and access to the special VIP cocktails, a glass of Nautilus Estate Cuvee, 30 crowns to spend on food and drink at the many features of Taste of New Zealand, VIP entry into the festival and a complimentary Taste of New Zealand event guide. In the Audi VIP Lounge you will find David Hawke and his team from Suite Bar (winners of the Hospitality Association Bar Team of the Year for 2011) whipping up some fabulous cocktails creations.
* Join all the chefs and the crew of Taste of New Zealand in the Audi VIP Lounge for the office Chefs' Party on Friday 21, 10pm-midnight. Tickets, $47.50 including drinks, are limited so be in quick. This is a unique chance to party with the best of Taste.
Learn from the best
Adding several jewels to the Taste of New Zealand crown, the Fisher & Paykel Chefs' Kitchen presents a "must see" timetable of top culinary talent ready to share their best recipes and chef secrets.
Hosted again by Kelly Young, runner-up in New Zealand's first-ever MasterChef, the Chefs' Kitchen is offering a stellar line-up of skilful and inspiring presentations by leading New Zealand and international chefs, including Gary Rhodes and Annabel Langbein to name a few.
Ensuring the best results for the star-studded cast, the Chefs' Kitchen is kitted out with the latest Fisher & Paykel appliances, featuring designer products such as the French Door Active Smart refrigerator, 90cm stainless steel gas cooktop and single Pyrolytic built-in ovens.
On stage every day, revered British restaurateur and six Michelin star chef Gary Rhodes will be entertaining foodies and critics alike, coming all the way to New Zealand for the first time to join Taste. He will be joined by the leading lady of Kiwi cookery and food show host Annabel Langbein, who has coincided the release of her new cookbook Free Range in the City with the event.
Other chefs stepping up to the plate at the Fisher & Paykel Chefs' Kitchen include The Food Truck's Michael Van de Elzen (Molten), Sergio Taglione (Toto), Paul Jobin (Sky City) and Nick Honeyman (Cru at Sale St).
Meanwhile, another of Fisher & Paykel's delicious creations, the Social Kitchen experience and appliance display will be just next door. There you will find the Our Kitchen bloggers, a group of passionate foodies from Fisher & Paykel who will be whipping up free tastings from their popular blog and giving away tea towels during every session.
Looking good
The art of entertaining - it's all about making an ordinary dish look extraordinary - and all you need are some expert tips on food styling. Great styling can mean anything from dressing a table to using products such as salmon roe to add a touch of luxury.
Step up New Zealand's own Masterchefs - Nadia Lim from 2011 and last year's winner Brett McGregor. They're teaming up to tempt Kiwi foodies with inspirational demonstrations at this year's Taste of New Zealand festival.
The "Art of Entertaining" demonstrations at the Regal Salmon star-marquee showcase how professional chefs use the senses of taste and sight to impress diners - and how you can, too. Learn how to balance your plate with the right colours and textures, or how to correctly garnish your dishes.
Auckland's Japanese culinary sensation Sachie Nomura from Sachie's Kitchen is also making an appearance, preparing artful Japanese tapas dishes for visitors.
Nadia Lim is creating three dishes - including a lime and mango salmon ceviche. Lim says the simple dish is colourful, attractive and - when served in a chilled shot glass as a canape - highly impressive for entertaining.
One of Brett McGregor's dishes is a hot smoked salmon pate on garlic scented crostini. He and Lim have both learned how important food styling is during their stints on Masterchef and they are keen to share their insights at Taste.
A top tip from the chefs: when it comes to artful presentation, simple is always better. Think clean white plates so the food colours stand out; don't overdo it with garnishing (one sprig of rosemary is more than enough); and, ensure your food portion leaves room around the rim of the plate
Nadia Lim and Brett McGregor are doing combined demonstrations, twice a day over the four days of Taste, from 12.30-1.30pm and 6-7pm, with each one followed by Japanese classes from Sachie Nomura from 2-3pm and 7.30-8.30pm.
You're invited
You've seen them show off in the kitchen, now The Waiwera Chefs' Table is a chance to ask the top chefs attending this year's Taste of New Zealand Festival your burning questions. Each session, one of the celebrities will be available for an informal chat with visitors in an intimate setting. At the head of the table you'll find stars such as Annabel Langbein, Michael Van de Elzen, Restaurant Personality of the Year Jonny Schwass, Michael Meredith from Merediths, Ben Bayly from the Grove and District Dining's Warren Turnbull to name a few. There are only 14 seats available per session for this popular feature, first in, first served, so see the website for details.
Dress to impress
Glam up for Taste of New Zealand and be in to win a fabulous BIG little City fashion wardrobe valued at more than $1500 including pieces from Trelise Cooper, Zambesi, Moochi and Agatha Paris.
All you have to do is take your picture in front of the BIG little City Best Dressed Photo Wall in the middle of the festival and post it on the BIG little City Facebook page. The best dressed, as judged by BIG little City, will win an amazing new wardrobe for summer.
The sounds of Taste
What better way to complement the food and wine at New Zealand's biggest cuisine festival than with the soulful sounds of Kiwi music? Top billing this year goes to jazz maestro Nathan Haines, who takes the stage for today's opening party. Apparently Nathan lives for food and music. He just can't get enough of the stuff. When asked what his dream dish is, he says: "Food that's been cooked with soul".
Jazz is a dish best served cool and at Taste of New Zealand Nathan will be bringing a smorgasbord of tasty musical treats to Auckland.
The aural delights do not end there. Music director for Taste of New Zealand, Peter Urlich, has produced a stellar entertainment line up for the four days of the festival. Great acts such as AK Samba, the wonderful Caitlin Smith Trio, Auckland's original ukulele band The Nukes, perennial Auckland DJ Murry Sweetpants and new starlet Hanna Grace are all included in the line-up.
Peter will be showing off his own musical skills with a performance by The Peter Urlich Sextet in the key Friday evening slot.
The Reputations whose eight musicians hail from many iconic New Zealand bands such as DDub take the stage on Saturday and Josh Leys, whose solo performance had the crowd dancing in the aisles at last year's Taste festival, returns for an encore performance.
See the online listing for a schedule of performers.
A market of flavours
If wandering around Taste of New Zealand eating the finest restaurant fare, drinking wine, listening to live music, attending cooking demonstrations and chatting to chefs isn't enough - there's also the amazing artisan food market. Here you can meet the many passionate people producing some of this country's most delicious food and wine - and sample their wares. So set aside plenty of time.
From award-winning olive oil from Mangawhai to Omaha Organic Berries, from cookies and crostini from Grey Lynn's Andre's Kitchen to Alexandra's Fine Foods selection - there is plenty to tantalise the tastebuds.
Win a Singapore Airlines business class upgrade
Imagine flying at 10670m enjoying gourmet restaurant fare created by a panel of celebrated chefs from around the globe; stretching out in a spacious seat which invites you to be reacquainted with the joys of relaxing on your favourite sofa; watching one of the wide array of captivating entertainment options from KrisWorld on your 39cm personal LCD screen.
Singapore Airlines is giving attendees of Taste of New Zealand Festival 2011 the chance to win a Singapore Airlines business class upgrade for two. Purchase any return economy class airfare between October 25 2011 and December 15 2011 for travel begun on or between January 16 and November 30 2012 and you'll be eligible to go in the draw to win an upgrade to business class for two people for your entire journey. To enter the draw, pick up an entry form from Taste of New Zealand and book your flights - terms and conditions apply.