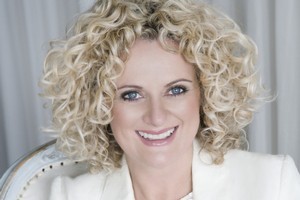 I married at 17 the first time and the challenges of that relationship pushed me to explore and understand myself and relationships. So I was very involved in the "New Age" movement which included rebirthing, Loving Relationships Training (LRT) and EST by Werner Erhardt.
I had a water birth at home 23 years ago with 15 people in the audience! Such a hippie.
My difficult years were when my son, at 17, moved to university in Melbourne and then on to Paris. My grief at his absence was completely unexpected. I still deal with his absence (although it is now easier) by knowing he is living his dream.
The greatest challenge I have faced was the death of my father last year and not having his physical presence, his huge unconditional love in my life and his beautiful flowers.
The last thing that made me think "wow" was WOW (World of Wearable Arts) in Wellington. I was a judge this year and although I had seen all the entries during the judging process, the show Suzie Moncrieff put together was completely awe-inspiring.
My guilty pleasure is to find a TV series DVD set (this weekend it was Damages), a lovely bottle of red wine, go to the beach house and kick back on the sofa for hours of indulgent DVD watching.
My first memory was standing as a 2 to 3-year-old on the checked-wool sofa catching lazy flies with my finger and smearing them down the window, being captivated by the colours (red and yellow) until my mother stopped me.
I would like to be a singer because I think it is something I haven't explored properly in my life. My childhood ambition was to be a singer in a band and I spent many hours standing on the heater (my stage) with my hairbrush. Or I'd like to be a talk show host Oprah-style as I would like to learn about the human condition through people's storytelling.
The best advice I have ever received was when things are going wrong, count with gratitude all the things that are right in your life and look for the good in every situation.
* Trelise Cooper is one of several New Zealand designers who have created fashion items which are being sold at Glassons' Cure Shops to raise funds for the Breast Cancer Research Trust.