Kelly Young uses fruit flavours in a tasty main dish and favourite dessert.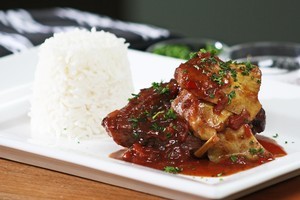 Braised lamb neck chops in plum sauce
5 lamb neck chops
2-3 tbsp Olivado High Heat Oil
1 onion, finely diced
2 NZ garlic cloves, crushed
1 tbsp fresh ginger, peeled and finely grated
1 chilli, finely diced
1 tbsp fresh rosemary, leaves picked and finely chopped
1 can Delmaine Whole Peeled Tomatoes
1 can Delmaine Cooking Artichoke Hearts, drained and cut in half
1 Tbsp Delmaine Red Currant Jelly
½ bottle Delmaine Plum Sauce
100ml red wine
1. Preheat oven to 190C
2. In a medium heated oiled pan sauté onion and garlic for 2-3 minutes then add ginger, chilli and rosemary. Cook for a few more minutes until the onion becomes translucent and soft. Remove from the pan.
3. Season room temperature chops. Add a little more oil to the pan and sear over medium to high heat on both sides until golden brown.
4. Add the onion and chilli mixture back into the pan and over a high heat deglaze the pan with wine and reduce by half. Add the jelly, plum sauce, and tomato (broken into chunks) and artichokes. Carefully place chops into a casserole dish then pour over the sauce and cover and braise for about 45 minutes. Serve with rice or couscous. Garnish with some fresh chopped herbs.
Watch and win
Watch The Chef's Apprentice, answer the question from each week's episode and be in to win a $5000 package of Fisher & Paykel appliances of your choice. Each entrant will also go in the weekly draw to win prizes from Breville and McGregor's gardening supplies. This week's Breville prize is the BRC450 Breville Rice Cooker.
To enter visit winwithheraldonsunday.co.nz. Enter your details and answer the question:
Week 12: What part of the red chilli does Kelly Young remove to reduce the 'hotness'?
* The Chef's Apprentice plays Sunday on Prime at 6.30pm.