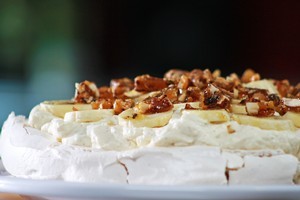 Serves 6-8
4 egg whites
1¼ cups sugar
1 tsp vinegar
1 tsp Hansells Vanilla Paste
1 tsp cornflour
1. Preheat the oven to 180C.
2. Beat egg whites and sugar in a mixer bowl on maximum speed for 10 minutes or until thick and stiff peaks form.
3. Mix vinegar, Hansells Vanilla Paste and cornflour together. Beat into egg white mixture and continue beating for a further 4 minutes or until the meringue is very thick and glossy.
4. Mark a 20cm circle on a piece of baking paper. Place paper on an oven tray. Spoon pavlova mixture to within 2cm from the marked circle, smoothing the top.
5. Place in the preheated oven then reduce temperature to 100C. Bake for 1 hour. Turn oven off and leave to cool in the oven.
Pavlova tips
* Have egg whites at room temperature. This gives a better volume when the whites are beaten.
* When beating egg whites to make a meringue, make sure the bowl is clean and grease-free otherwise the egg whites will not beat to a good foam.
* Use a cake tin to mark the 20cm circle on baking paper.
* Cooling the pavlova in the oven helps keep it dry and prevent cracking. Sudden changes in temperature cause the pavlova meringue to crack.
* Don't fret too much if the pavlova does crack. Cream will hide the cracks.
Almond praline topping
1/3 cup roughly crushed almonds, toasted
½ cup granulated sugar
2 tbsp water 300ml cream
1 tbsp Hansells Vanilla Paste
1 lemon, juiced
2 bananas
1. Boil the sugar and water in a small saucepan until the sugar caramelises. Cover the pan with a glass lid if possible to watch that it doesn't burn (steam condensing on the cover will wash any crystals off sides of pan). Boil without stirring until syrup is thick and turns a light nutty brown.
2. Stir in the toasted almonds. Bring just to the boil and then pour onto an oiled baking tray. When cold, after about 10 minutes, break into smaller pieces then blitz in a food processor to make a chunky texture.
3. Whip cream until soft peaks form. Fold in Hansells Vanilla Paste. Slice bananas. Cover sliced bananas with lemon juice.
4. Spread cream over the top of the pavlova, top with sliced bananas and sprinkle over almond praline. Serve immediately.