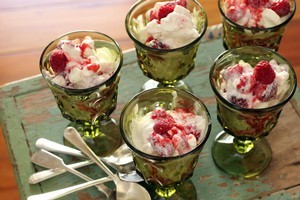 1 Buy a carton of low-fat vanilla icecream, frozen raspberries and some ready-made meringues.
2 Leave the icecream out of the freezer to soften and put the berries on the bench to start to thaw.
3 Put ½ a cup of raspberries in a pot with a tablespoon of icing sugar and a tablespoon of water.
4 Warm through and when well combined push through a sieve to remove the seeds, leaving a smooth raspberry sauce. Cool.
5 Crush the meringues and mix with the raspberries through the softened icecream but be careful not to over mix. Pile into individual glasses or a glass bowl.
6 Store in the fridge until ready to serve, pouring the raspberry sauce over the mix before taking to the dining table.
Luxury icecreams, gourmet frozen yoghurts and stylish sorbets are now readily available from supermarket and food store freezers. While a deal more expensive than the more common brands, they can enable some very grown-up ice cream dessert options.