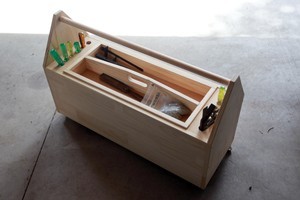 Tackling a toolbox on wheels is a three-stage project.
Whether you are a home handyman or woman, a DIY expert, landscaper or builder, one of the first things you'll need is a toolbox on wheels to store your essential toolkit so you're set up for future projects.
The beauty of designing and building your own toolbox to accommodate your hand tools is that you can construct it to whatever shape or size suits your needs. It's also very rewarding. The construction of this project is simple for a beginner. This is stage one. We'll tackle stage two next week.
Materials
2 Laminated panels 300 x 18mm x 1800mm (for ends and sides)
1 Handy panel MDF 1200x600mm (bottom)
1 dowel x 900mm x 25mm (handle)
2 clear pine 18x18mm x 1200mm (cleat base sits on)
1 box 8 gauge x 40mm CSK square screws with driver bit
PVA exterior wood glue
5mm drill bit
25mm drill bit (for handle)
ToolsSharp handsaw
Tape measure and pencil
Builder's square
Hand plane
Screw gun
Tips
* To help hold the timber so it doesn't move about when handsawing it, clamp it firmly to the bench top, using a holdfast or a G clamp.
* When using a handsaw, be sure to have your pointing finger pointing in the direction you want the saw to cut. This will help you to cut straight.
* When drilling to a specified depth, measure the drill bit to the depth you want to go, then wrap a piece of masking tape around the drill bit so you don't drill past that point.
Step 1
Lay your 300mm x 1800mm panel down on a flat surface such as a work bench or table. Using a builder's square, measure and mark 800mm from either end and then, with a sharp handsaw, cut the panel along the outside of your lines. This will give you your two sides.
Step 2
Lay the next 300mm x 1800mm panel down, then measure, mark and cut 500mm from each end. This will give you two end pieces.
Step 3
Measure the halfway point at the top of your two end pieces. Measure 20mm either side of the centre mark. This will give you the starting points for the angles down to the top sides of your box. Cut along the outside of these marks.
Step 4
Lay the two end pieces side by side. Measure and mark 30mm down from the top (the pointy end). You now drill an indent for the dowel handle to slot into: Using a 25mm drill bit, drill two-thirds of the way through each end piece, being careful not to drill right through.
Step 5
Still with the end pieces for your toolbox, scribe a mark 10mm down and in from the edge. Now evenly space your screw holes. Using a 5mm drill bit, drill to your marks.
Keep the drill straight and true so you don't drill a hole on an angle. You now have pre-drilled holes to fix your ends to the sides.
• Continued next week.
Greig Morgan is a cabinetmaker by trade, who now runs his own landscaping business, GT Landscapes.