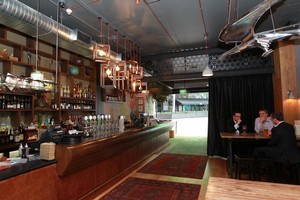 It was with fanfare, hype and hoopla that Red Hummingbird opened to the public.
There were naked painted ladies, hyperactive dwarfs and Jordan Luck, but I can't shake the nagging feeling that there is rather more style than substance to the place.
Luke Dallow doesn't really do things by halves and this Federal St development is something of a visual marvel, stunningly - if eclectically - decorated, with great use of space to present what is in effect a small Auckland city bar as something on a grand scale.
And yet ...
To be honest there isn't much to complain about at Red Hummingbird.
The beer is fine, the spirits are varied and interesting and the wine list is comprehensive. The food is also interesting, in a gastro-pub sort of style.
But there is something vaguely soulless about the place.
It starts with the clashing styles of decor.
It looks as though stuff was merely stuck to the walls in order to break up the expanses of concrete, although the deck area at the rear of the bar is very cool indeed.
The Playboy booth is a nice touch, but as a bar you have to ask whether or not it actually works and I'm not sure Red Hummingbird does.
Regardless of what I think or say, of course, Red Hummingbird will be packed.
Luke Dallow's name and the insatiable desire among a certain class of Aucklanders to be seen in certain places will ensure that.
But to my mind it just feels like somewhere that bright young things will flock to in an attempt to make it on to the gossip pages of the Sunday papers.
Scores:
Service 4/5
Drink 3.5/5
Food 3.5/5
Atmosphere 1/5
Overall 3/5
Red Hummingbird, 84 Federal St, Auckland City, ph (09) 363 7078, redhummingbird.co.nz