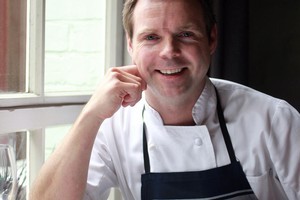 At next week's Taste of New Zealand festival, you can sip champagne in between oysters, nibble on tapas-style dishes from leading chefs using the freshest local produce or browse stands featuring artisan producers, all while enjoying the sights of a vibrant festival atmosphere and entertainment by Peter Urlich, Nathan Haines and Caitlin Smith.
One restaurant going to great lengths to impress visitors is The Grove, owned by acclaimed sommelier Michael Dearth, whose charismatic personality and passion for matching head chef Ben Bayly's dishes with the perfect wine is legendary.
"There are a lot of food-savvy people in this country now," says Dearth, who is looking forward to presenting his restaurant to the 25,000 people expected at the festival.
"We don't mind if festival-goers are sad or happy about the rugby, as long as they're hungry," says Bayly, who has sourced almost the entire season's quota of undersized Karitane crayfish for his Taste of New Zealand dishes, as well as wild-shot Raukumara red deer hunted by helicopter.
Bayly spends just as much time and care finding rare wild herbs, cress, mints and celery, drawing on his respect for the Maori association with the land and a commitment to finding the finest local ingredients, because a chef "can't dress mutton as lamb". Judging by the dishes Bayly and the other restaurateurs and producers will offer, there will no doubt be quite a few fond food memories created over the four-day event. So plan your visit.
Celebrity chefs
Find them at the Chef's Kitchen, Chef's Table or the Art of Entertaining events. Celebrity chefs include Rick Stein, who is best known for his love of seafood and championing artisan producers. Stein will be at the event on Wednesday, Friday and Saturday. Popular British chef Gary Rhodes, who has six Michelin stars and hosted two seasons of the original MasterChef, will demonstrate in the Chef's Kitchen on most sessions. An event in the Corporate Marquee on Thursday night features Rhodes and one of his dishes; ex-pats Josh Emmet (MasterChef NZ) and Justin North will give their mate Warren Turnbull a hand in the District Dining restaurant stand; Sachie from Sachie's Kitchen and guest MasterChef NZ winners Brett McGregor and Nadia Lim will demonstrate masterpieces you can create at home in The Art of Entertaining. Annabel Langbein launches her new book Free Range in the City on Wednesday.
Perfectly formed
Discover new favourite products from more than 140 winemakers, brewers, pop-up bars, coffee roasters, butchers and gourmet food and drink producers, such as single estate olive oil, gourmet chili products and artisan preserves. Browse the small producers' market where you can meet the producer before you part with your hard-earned money.
Adopt a second team
Console the Scots by heading to the Whisky Masterclass with the greatest variety of whiskies anywhere in New Zealand. Or show your French colours by indulging in champagne and oysters.
VIP treatment
The VIP bar is a classic 1920s soda bar with cocktails served in old-fashioned milkshake glasses. The VIP Experience includes 30 crowns, fast entry, a glass of Nautilus Cuvee, a complimentary event guide, entry into the lounge and access to the VIP cocktails.
Featured restaurants
The festival menu contains 32 dishes ranging from The Grove's Crayfish with Cafe de Paris Butter to True South Dining Room's Rabbit Terrine and Steamed Baby Paua from The Farm at Cape Kidnappers.
Taste of New Zealand
The festival at Victoria Park runs October 19-22, with an opening night session on Wednesday October 19 from 5.30pm-9.30pm, then two sessions a day - noon-4pm and 5.30pm-9.30pm. www.tastefestivals.co.nz.
Ticket prices: Audi VIP experience: $95; Premium tickets: $60 (value $70) limited and only available in advance; General admission: $25 in advance, $30 on the day (if available). Currency once inside is "crowns". 1 crown = $1 and a restaurant dish will cost about 8-12 crowns. A glass of wine costs around 6-8 crowns.