Looking up your symptoms on the internet can lead to all sorts of misdiagnoses, as Gill South found out.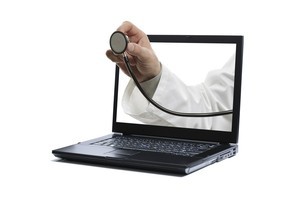 Be careful what you wish for. Just the other day, I was longing for a little dose of flu just to knock off some of those extra winter pounds that have crept on. And, cheers, I certainly got a dose of something but it wasn't little.
I have had this nasty virus which makes you ache in every part of your body, especially your head, gives you the chills, and comes with a very attractive hacking cough, which likes to make its presence felt whenever I'm attempting a conversation with someone. Something's going on in my larynx too, which means I can't project my voice. In a house of three males this puts you at a severe disadvantage. I went through my little box of tricks to combat this assault on my health from eucalyptus inhalations, large doses of Vitamin C, to Codral Cold Flu + Cough but they were as effective as throwing Smarties in the path of a rampaging elephant.
And by the third day, when you could reasonably have expected some respite, I felt, if anything, worse. My experience at this point was spiced up by the appearance of a rash across my midriff, itchy palms, and a rash on my wrist.
I raced off to the web to find some answers and the search "virus itchy palms" led me to a diagnosis of shingles - the Southern Cross website is a good source of information. The symptoms fitted: a feeling of being generally unwell, mid chills and fever, headache, an upset stomach (well-ish), and enlarged lymph nodes. Causes: emotional stress, lowered immunity, recent illness and age. Sure, that could be me.
So I march into my long-suffering GP's - she's seen a LOT of our family the past few weeks - with my self-diagnosis. My doctor, by the way, feels no need to see her name in my column. I'll call her Louise. She immediately rules out shingles because the rash goes right across my midriff. A shingles rash would be keeping to one side of the body. Huge relief, I wasn't looking forward to the blisters which follow the rash. She also eliminates meningococcal virus - not quite sure why, hadn't even got to that in my internet research.
Then she gets to the crux of the diagnosis. Have I used a hot water bottle lately? Yes, the previous night to ward off the chills. Well, that's given me the midriff rash, she says. And I tell her that I had my lap top in bed with me this morning which when I think about it, felt rather warm. Carrying that around and having it in bed with me, has given me the itchy palms and the rash on the wrist. This jolly virus obviously has a very low tolerance of heat. Any chance of having a rest, she asks plaintively? She knows what my usual workload is like and actually it's about double this week as the school holidays approach. No, but thanks for asking, I say.
I go home and immediately start to feel a bit better. By the morning I've turned the corner although the cough is still clinging to me lovingly. I feel completely wiped out and if this were an Enid Blyton novel I'd be sent off to a Cornish farm to convalesce and have lashings of ginger beer and cream teas.
Sigh. It's not.
Next week:
I have no idea what kind of bone density I have and Osteoporosis NZ is running Better Bones Week this week, so I'm off to have a bone density scan at Auckland Hospital. I'm told it won't hurt a bit.