Danielle Wright finds the art and culture off the rugby field almost as exciting as the big matches on them.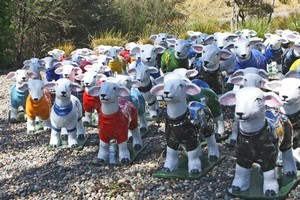 Visiting for the Rugby World Cup? If your team has been knocked out, there's no need to pack your bags just yet. With almost 1200 events as part of the RealNZ Festival, 100 for Art Week Auckland and more on offer from the Basement Festival and Taste of New Zealand, you'll have plenty to look forward to on the sidelines.
And if you're a local, it might be time to explore the North Island with short trips to some of the towns you've probably driven through but never had a good enough reason to stop at - most have interesting events to get rid of any big city blues. Here are a few local and out-of-town events to help narrow down the choices.
Art and about
If you think the threat of whacky sheep has passed, think again. As part of the HeART of the Nation festivities the Whacky Flock has headed to the TelstraClear Pacific Events Centre for a final reunion. Admirers of the giant fibreglass sheep will have the chance to bid for their favourite with proceeds going to charity.
For something a bit less tacky, Art Week Auckland is a 10-day celebration of Auckland's visual arts scene featuring six neighbourhoods, 10 days and nights, 70 venues and galleries with 100 events and exhibitions.
It's in its second year and by all accounts, looks fantastic. Here are some highlights:
If sitting at the pub watching rugby is making you restless, take a walk around the BIG Little City Late Night Art Crawl from 5pm-10pm on October 20, with 10 galleries open late and hosting entertainment and exhibitions, as well as some on-street entertainment. Bike cabs will be available free of charge to get you from gallery to gallery.
If this makes you want to start a collection, or seek advice on how to sell your own etchings, head along to Art Speed Dating at Alleluya Cafe and Bar in St Kevin's Arcade on October 19 from 6-8pm. It's here the public can go head to head with the know-it-alls of the art world - artists, dealers, collectors and curators.
For those who like to combine their art with fitness, take an Art Week by Cycle tour. Today's ride leaves from Whitespace Gallery from 1pm, but there are others on October 18 and 22. Each ride explores featured galleries as well as those slightly off the beaten track. And if your bike is in the back of the garage with a puncture, just reserve a free NextBike for the night.
If hopping on a bus is more your style, try the Southern Gallery Express Bus Tour for some Pacific art at the Mangere Arts Centre, Mangere town centre and market, as well as the Southern Seas Fanzone. It then takes you to the Pah Homestead for a look at the collection of the James Wallace Arts Trust. 10am-2pm, today: free, but bookings are necessary.
Auckland's Botanic Gardens opened its summer-long Sculpture in the Gardens last weekend. With 21 large-scale botanically-themed sculptures on a two-kilometre trail, these are pieces that invite interaction. Children in particular are welcome to touch and explore, plus there are workshops, guided walks and music.
Auckland Botanic Gardens, Hill Rd, Manurewa. Daily 8am-8pm (visitor centre closes 5pm weekends).
If you are coming into the city - or heading along the fan trail - check out the The Performance Arcade, a mini-festival staged in shipping containers on Aotea Square. See wonderful wacky miniature performance installations from seven New Zealand performance artists.
Aotea Square, until Sunday October 23, 12pm-8pm, free.
Learn how to make your own art with the experts, such as the Wood and String workshop in Wynyard Quarter today (1-4pm) to create your own 1970s-style wood, string and wool artwork, or the book-making for kids workshop earlier in the day (10am). Be inspired by Michio Ihara's Wind Tree and make your own kinetic sculpture by recycling and repurposing materials, October 20, 1-4pm, also in Wynyard Quarter.
For more information visitArt Week Auckland or book through bookings@artweekauckland.co.nz.
Other art events include Philip Trusttum's Rugby Player in Action exhibition, which is a series of large-scale paintings depicting players from each of the Rugby World Cup teams, in action. Trusttum is one of New Zealand's most recognised contemporary painters of major works. He is also a great sports fan and is particularly interested in the culture of sport and the patterns, textures and movement of sportspeople. Whitespace Gallery, 12 Crummer Rd, Ponsonby until October 23.
While trying to track down The Black Boot Legend Gallery's photography display of New Zealand rugby images, a kind train driver at Britomart steered me in the direction of the Lonely Dog Art Collection, which is showing a selection of Hounds at Play by Ivan Clarke. It wasn't what I was looking for, but his illustrated dog, Arthur, who is being turned into a film character by Warner Bros, is a Kiwi success story and limited edition rugby-themed pieces featuring Arthur are on display. Swing by 20 Customs St East to see for yourself.
Street art
Take a walk around your neighbourhood and you're sure to spot some of the new street art beautifying our city.
Highlights include Peter Lange's brick sculpture tokens of the game in Todd Triangle, a newly rebuilt park in New Lynn, perfect for children to play in and around, or his Chaise Lange, a chaise longue which has 1300 handmade tiles and is built to hold five large drag queens - it's outside Caluzzi Bar and Cabaret on Karangahape Rd.
On the Shore, take a look at Knitty Graffity's The Woolly Walkalong along the handrails on Devonport Wharf. Ninety knitters from nine countries contributed in a large-scale yarn bomb - pieces include a replica Dan Carter, a giant squid and Cornish pasties from England's Graffiti Grannies.
If you're keen to know the background to the art, take a free public art audio tour from the Karanga Kiosk, Wynyard Quarter. Stream an audio tour on your mobile device and learn about the public art around you, as well as hearing the artists discussing the thoughts behind their works. This tour, as part of Auckland Art Week, is also on Four Square, which has all participating venues logged in so galleries will pop up in your "online" neighbourhood as you walk around the city - or simply download the old-fashioned map.
Performing arts
For a dramatic and compelling story of love, revenge and torn loyalties, Arohanui - The Greatest Love is a new generation of Maori performance blending traditional haka, martial arts, theatre, poi and musical composition, as well as contemporary Maori art forms into an energetic and emotional theatrical celebration. Look out for Brendan Ngarino Watt, a rugby player for North Harbour, who often runs into rehearsals in his rugby gear. Arohanui runs until October 21 at the Dorothy Winstone Centre, Auckland Girls Grammar School, Newton. Ticketek, cost $45-$85.
For something a little more off-centre, book into True Stories Out Loud, part of the Basement Festival running until October 23. It's a show where a bunch of people gather in a small room, have a drink and listen to other people telling true stories. It's not comedy, though it's allowed to be funny. It's not educational, but you might learn something. It's not musical, but they like to include the odd story-telling musician.
If you've been watching some of the more character-filled faces (and facial hair) on the tour, you'll no doubt have seen a bit of rugby comedy already. For some rugby comedy off the pitch, book a seat at The Rugby Comedy Festival on October 22, 6pm at ASB Theatre, Aotea Centre. Some of the world's funniest rugby raconteurs (including Eric Rush, Vince Sorrenti, Martin Bayfield and Ian Robertson) will be in town to provide a few laughs before the serious business of a rugby final takes over. Click here for tickets, cost $79, plus booking fees.
Q Theatre is showing a more reflective piece, Finding Murdoch, a moving account of one of the most notorious incidents in All Black history. Something inside Keith Murdoch must have been broken the night he was sent home from the 1972 test match against Wales after being both hero and villain - scoring the winning try, then later, punching a security guard. His reaction, to disappear into outback Australia and shun friends, family and team mates, is something the media has never been able to understand, and it has elevated the incident to legend. Finding Murdoch runs until October 23 at Rangatira, Q Theatre, Queen St, seats $35-$45.
Fashion and film
Festival Director Briony Ellis sums up the ambitious RealNZ festival as: "showcasing New Zealand: what we value as people and the stories that resonate as a deep insight into who we are". New Zealand On Screen is a showcase of some of these stories and our national identity as seen on screen.
From Billy T to Boy, from Peter Snell to The Piano, Hillary to Hudson and Halls, New Zealand On Screen celebrates screen icons that embody Kiwi spirit and stories. There's even a photo booth where you can have your image inserted into a classic Kiwi film or television scene and then emailed to family and friends. Free until October 23 at Queen's Wharf.
Black in Fashion - a pop-up museum of black outfits from shearer's singlets and All Black jerseys to Victorian mourning bracelets and Chris Knox's T-shirt and jandals - helps explain why black is never out of fashion here. Britomart Square (behind the station), Cnr Galway and Gore St. Free, ends October 24.
Eight garments from the World of WearableArt (WOW®) awards are also on display around the country as part of the WOW Icons on Tour. In Auckland, visit Auckland Museum to see Into the Blue by Marie Grant Roxburgh, as well as stories and audiovisual footage of the designer describing the ideas, inspiration and creation of her garment.
Further afield
And if the thought of the Rugby World Cup is making you want to head for the hills, why don't you? There's plenty on offer outside Auckland as well ... Here are some events to consider:
* Set in the grounds of Waikato's Sculpture Park at Waitakaruru Arboretum, 15km east of Hamilton City, is an exhibition of contemporary New Zealand outdoor glass curated by Karl Chitham and called Refraction. On now, until November 30. For more information click here.
* Brick Bay Sculpture Trail features more cheerful sheep, this time by artist Gregor Kregar. With contemporary sculpture in a stunning setting, the celebrated Brick Bay winery and tasting room, it is worth the 50-minute drive from Auckland. Admission charges.
* Warkworth's Kowhai Festival runs from now until October 23 with the highlight, the Huge Day Out, taking place today.
* Proving there's more than just murals in Katikati, the Experience Katikati Festival showcases small-town New Zealand with a traditional Maori hangi, classic Kiwi barbecue, hunting and fishing displays, historic walks and live mural painting, as well as entertainment in the town centre and at the Katikati Rugby Club.
* Waipu Museum has a special exhibition of Men in Kilts rugby. Full of Scots, this town is also home to one of our oldest rural rugby clubs. Runs until October 31.
Traveller's tips
Sandwich boards and signs for the events are not always allowed, so it's best to call first if you're unsure of the gallery or exhibition's location.
Other festivals and events running this week are:
Southside Arts Festival, formerly Manukau Festival of Arts, showcasing south Auckland arts.
Visit the Webb Ellis Cup at the Auckland Museum until October 22 from 10am-5pm (leaves the museum at noon on the last day).
Taste of New Zealand for the best food and wine of our region - October 19-22, Victoria Park.
The newly open Auckland Art Gallery has Art Week: Open Late & Pecha Kucha on October 20, 5pm-10pm and many other events during the week, see
Style Pasifika showcases the best of New Zealand's Pacific innovation and creativity through music, fashion, film, entertainers, designers and technology. October 18 at Vector Arena.